Five Easy, Heart Healthy Exercises to Incorporate into your day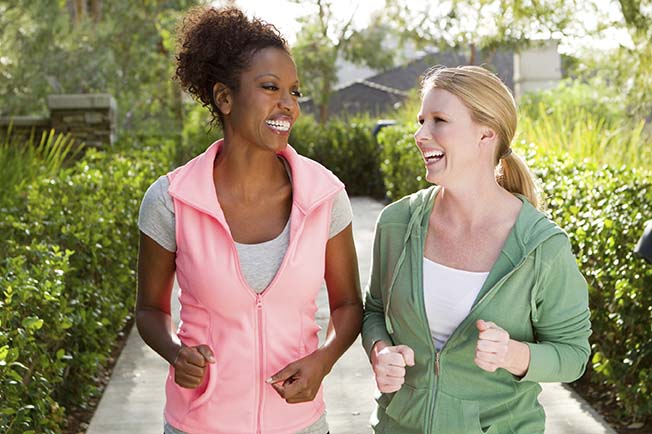 Consistent physical activity improves individual's overall health and wellness, and reduces risk for heart disease and other illnesses. Do you make time for regular exercise most days of the week? It can seem daunting at first but here are ways to squeeze in fitness throughout the day, no matter the work setting.
Do these five simple, heart pumping exercises daily for enhanced health:
Raise the roof – Repeat 20 times or count for 20 seconds.
Stand up straight and tall. Begin to march in place. Alternate knee lifts, lifting them as high as comfortably possible. Then begin to raise hands above the head. Pump arms and legs at the same time and "raise the roof" with arms.
Punching - Repeat 20 times or count for 20 seconds.
Stand up straight and tall. Lift hand up near one shoulder and ball it into a fist. Punch outward across the chest in a diagonal position. Switch to other side. Repeat this move while rocking feet to put force into the move. Do not fully straight whole arm in the punch as that could cause slight elbow stress. Punch as quickly and forcefully as comfortable.
Desk or wall pushup - Repeat 10 times or count for 20 seconds.
Place hands on edge of desk or against the wall, shoulder width apart. Legs are out behind you. Push off with as much force as possible. Repeat the move ten times.
Side lunge - Repeat 10 times each side, 20 total.
Place hands on hips. Stand up straight and tall, shoulder width apart. Step out with leg to one side and bend down as far as comfortably possible. Move back to standing position. Now move to the opposite side and step out with opposite leg. Repeat move until ten times are done on each leg.
Walking – Go for a ten minute walk.
Find ten minutes a day to go for a walk. This is the easy, free and enjoyable exercise. Walking is good for the heart and body as well as the mind. Plan a short walking break around your employer or home. Make a lap around the parking lot where your car is parked when you have extra time. While you are out buying groceries, do extra laps in the store before or after you have all the needed items.
These quick fitness options are effective and will boost your body and spirits when performed frequently. Find ways to move, groove and improve your heart each day.