Baptist Heart & Vascular Institute Celebrates 100th TAVR Milestone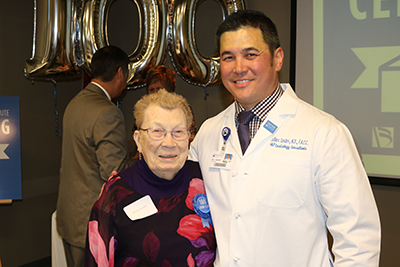 Baptist Heart & Vascular Institute (BHVI) performed its 100th Transcatheter Aortic Valve Replacement (TAVR) procedure on Oct. 4 and two additional TAVR procedures were also completed on the same day. The TAVR team hosted a celebration of this milestone to honor the more than 100 patients on Nov. 7.
This is significant because this life saving procedure may be the only hope for patients considered too high risk for traditional open heart surgery. This is a tremendous milestone for BHVI and a great benefit to the people in the Northwest Florida area who need this level of advanced care.
"Reaching this milestone is a testament to the teamwork and dedication of our team at Baptist Hospital," says Luther I. Carter, M.D., FACC, FSCAI, interventional cardiologist. "The 100th TAVR was performed on a 90-year-old individual who was too high risk for standard treatment. The patient was up and walking six hours after the procedure and was discharged the following day in great spirits and without any shortness of breath symptoms. This leading edge technology and service is something we are all proud of, and I appreciate every team member involved in developing our successful structural heart program."
TAVR is saving people and improving the quality of life for patients who otherwise had no options. BHVI is the first team of cardiovascular specialists in the Florida Panhandle and one of the select programs in the nation to offer TAVR for patients with severe aortic stenosis who are not candidates for traditional open heart surgery.
Read more and watch our video about our 100th TAVR Celebration!