PGY2 Pharmacy Informatics Residency Program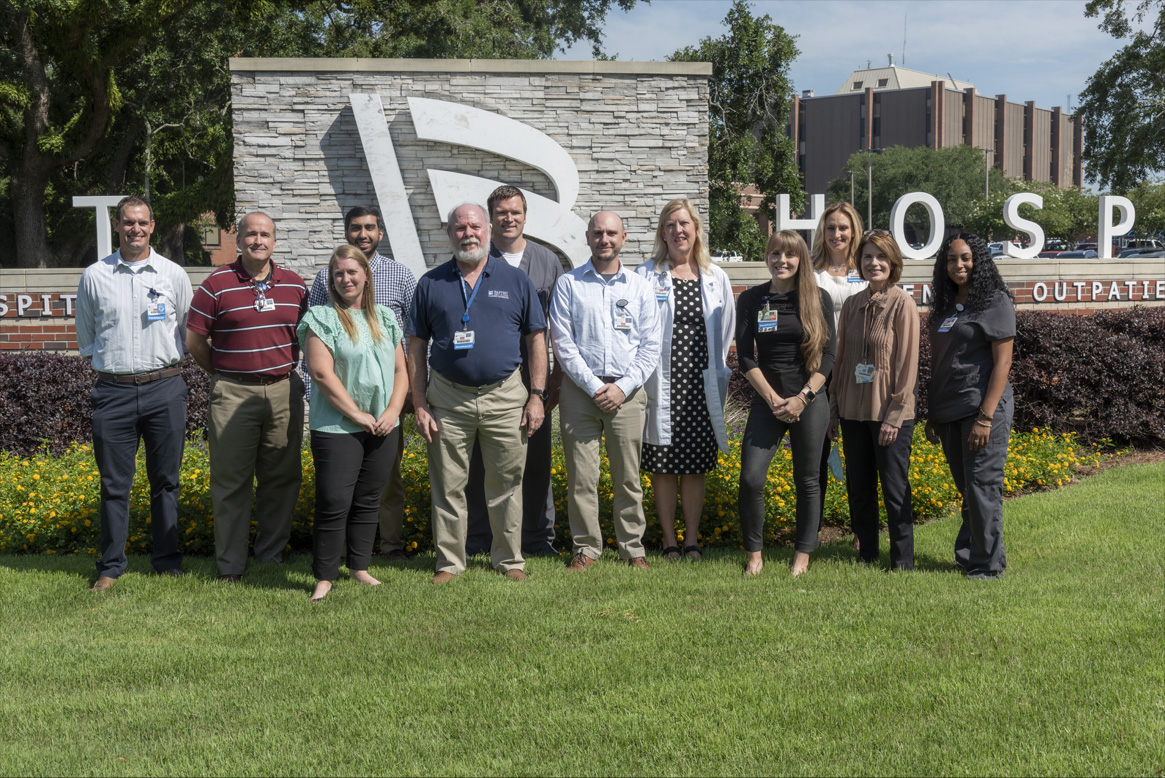 Mission
The PGY2 Pharmacy Informatics Program embraces the Baptist Health Care (BHC) Mission of helping people throughout life's journey.
Purpose
PGY2 pharmacy residency programs build on Doctor of Pharmacy (Pharm.D.) education and PGY1 pharmacy residency programs to contribute to the development of clinical pharmacists in specialized areas of practice. PGY2 residencies provide residents with opportunities to function independently as practitioners by conceptualizing and integrating accumulated experience and knowledge and incorporating both into the provision of patient care or other advanced practice settings. Residents who successfully complete an accredited PGY2 pharmacy residency are prepared for advanced patient care, academic or other specialized positions, along with board certification, if available.
Program Description
The Baptist Hospital PGY2 Pharmacy Informatics Program offers an educational experience within our unique culture which encourages both personal and professional growth of the resident. Offering a combined focus on pharmacy informatics, medication safety and leadership, our program equips the resident with the tools to achieve a higher level of understanding for pharmacy informatics within today's health care environment. The personal and professional growth attained through the residency will support a variety of meaningful career paths.
Residency Expectations
Complete the 12-month residency program by achieving outlined goals and objectives to graduate.
Participate in activities within required areas designed to ensure that the resident gains experience and understanding around the complexity of the pharmacy informatics role including the interrelationship with medication safety and formulary management.
Provide multi-disciplinary education through formal presentations including continuing educational sessions.
Precept pharmacy students and PGY1 residents, as applicable.
Complete the American Society of Health-System Pharmacists Pharmacy Informatics certification.
Complete committee memberships which support assigned rotations.
Oversee staffing responsibility: Two 8-hour shifts every third weekend on Saturday and Sunday.
Learning Experiences
Orientation to Pharmacy/Pharmacy Informatics Certification
Fundamentals of Pharmacy Informatics
Medication Safety
Leadership/Formulary Management
Automation
Clinical Decision Support
Data Analytics and Reporting
Project Management/Implementation
Applicant Qualifications
Doctor of Pharmacy (PharmD) degree from an accredited college of pharmacy or Bachelor of Science in pharmacy with clinical experience
Completion of a PGY1 pharmacy residency
Licensed or eligible for licensure as a registered pharmacist in the state of Florida
Candidates must submit the following via Pharmacy Online Residency Centralized Application Service (PhorCAS®) portal.phorcas.org :

Letter of intent
Curriculum vitae
Official pharmacy school transcript
Three (3) letters of recommendation – two (2) letters must be from a preceptor and/or professor

Application deadline: Jan. 15
The residency program director will extend an invitation to selected candidates for a formal interview.
For more information please contact:
Julie Angus, RPh, MSHI
PGY2 Program Director
Department of Pharmacy Services
Baptist Health Care
1000 West Moreno St.
Pensacola, FL 32501
julie.angus@bhcpns.org
Residency Administration
Julie Angus, RPh, MSHI
Ms. Angus is the residency program director and a senior information technology pharmacist for Baptist Health Care. She serves as the pharmacy informatics preceptor for pharmacy practice residents. She received her pharmacy degree from the University of Florida College of Pharmacy in 1985. She also received her master's degree in health informatics from the University of South Florida Morsani College of Medicine in 2016.
julie.angus@bhcpns.org
Corporate Administration
Rudy Seelmann, PharmD, BCPS
Dr. Seelmann is the Corporate Health System Director of Pharmacy of Baptist Health Care. He serves as preceptor for pharmacy practice residents for Practice Management. Dr. Seelmann earned his Doctor of Pharmacy degree from Mercer University, College of Pharmacy in 2002. He earned board certification in Pharmacotherapy in 2008.
rudy.seelmann@bhcpns.org
Shelby Gaudet, PharmD, BCPS, BCIDP
Dr. Gaudet is the corporate health system clinical coordinator for Baptist Health Care and the antimicrobial stewardship pharmacist. She serves as a preceptor for the antimicrobial stewardship and infectious disease learning experiences. Dr. Gaudet earned her Doctor of Pharmacy degree from University of Florida, College of Pharmacy in 2009. She completed a pharmacy practice residency with Baptist Hospital in 2010. She earned board certification in pharmacotherapy in 2010 and board certification in infectious disease in 2018.
shelby.gaudet@bhcpns.org
Operational Administration
Chelsea Frantz, PharmD
Dr. Frantz is the health system director of inpatient pharmacy. She serves as the preceptor for the orientation learning experience for pharmacy practice residents. Dr. Frantz earned her Doctor of Pharmacy degree from University of Florida, College of Pharmacy in 2010. She completed a pharmacy practice residency with Sacred Heart Hospital in 2011.
chelsea.frantz@bhcpns.org
Lee Bennett, RPh
Mr. Bennett is an inpatient pharmacy operations manager. He aids in acclimating residents within the department during the orientation learning experience. He serves as the preceptor for the staffing/service component of the residency. Mr. Bennett earned his bachelor's degree in pharmacy from Northeast Louisiana University in 1995.
lbennett@bhcpns.org
Preceptors
Jayne Hoffman, PharmD
Dr. Hoffman is the medication safety pharmacist. She serves as a preceptor in nutrition support for PGY1 residents and conducts a longitudinal medication safety learning experience for the PGY2 pharmacy informatics residents. Dr. Hoffman received her Doctor of Pharmacy degree from Mercer University College of Pharmacy in 1983. She completed a post-doctoral residency in parenteral and enteral nutrition and intravenous therapies at Community Alimentation Services in 1984.
jhoffman@bhcpns.org
Pam Henderson, PharmD
Dr. Henderson is a senior pharmacist within the Baptist Health Care information technology department. Dr. Henderson received her Doctor of Pharmacy degree from the University of Florida College of Pharmacy in 2009. Her areas of interest include order set build and pharmacy automation. She serves as a preceptor for several core learning experiences.
pam.henderson@bhcpns.org
Amy Knoblock, PharmD, BCPS, BCGP
Dr. Knoblock is the residency program director for the Baptist Health Care PGY1 residency and the clinical specialist in internal medicine. She facilitates research projects for the PGY1 and PGY2 residents. Dr. Knoblock received her Doctor of Pharmacy degree from Wayne State University Eugene Appelebaum College of Pharmacy and Health Sciences in 2004. She completed a pharmacy practice residency with William Beaumont Hospital – Royal Oak in 2005. She received board certification in pharmacotherapy in 2012 and board certification in geriatrics in 2017.
amy.knoblock@bhcpns.org
Current Resident
Neel Patel, PharmD
Dr. Patel has the distinction of being the inaugural resident for the post graduate year two program. Dr. Patel received his Bachelor of Science in pharmaceutical sciences in 2016 and his Doctor of Pharmacy degree in 2019, both from University of Mississippi in Oxford, Mississippi. He completed his PGY1 at Coram/CVS Specialty Infusion Services in Houston, TX, in 2020 and received his teaching certificate from University of Houston, School of Pharmacy in 2020. His goal of the PGY2 residency year is to strengthen his skills in pursuit of a career in pharmacy leadership and information technology management.
neel.patel@bhcpns.org