Baptist Heart & Vascular Institute Welcomes New Interventional Cardiologist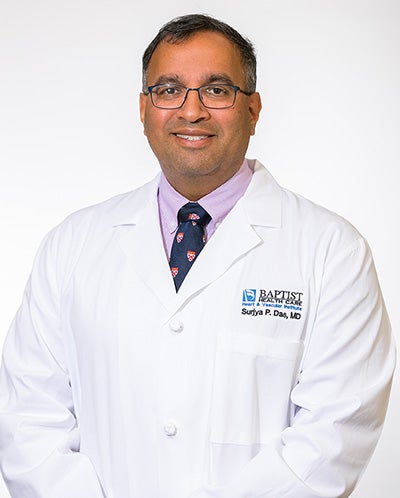 Baptist Heart & Vascular Institute (BHVI) and Cardiology Consultants are pleased to welcome Surjya Das, M.D., FACC, FSCAI.
Dr. Das is a fellowship-trained interventional cardiologist and is board certified in cardiovascular diseases and interventional cardiology. He is highly skilled in diagnosing and treating cardiovascular disease as well as congenital and structural heart conditions. He works with his patients to offer comprehensive cardiovascular treatment plans that best meet their conditions and needs.
Dr. Das earned his medical degree from Albany Medical College in New York City. He completed his internship at Oakland Naval Hospital in Oakland, California and his residency at the University of California in San Francisco. His fellowships were completed at National Capital Consortium, National Naval Medical Center in Bethesda, Maryland and at William Beaumont Hospital in Royal Oak, Michigan.
Dr. Das now welcomes new patients in his office located at Baptist Towers, 1717 North E St., Suite 331, in Pensacola.
To learn more about Dr. Das or to schedule an appointment, please visit CardiologyConsultants.com or call 850.484.6500.