Baptist Behavioral Medicine Center
Who We Serve
Baptist Behavioral Medicine Center serves children, adolescents and adults who are experiencing acute depression, anxiety, paranoia, schizophrenia, substance abuse or suicidal thoughts.
What to Expect at the Behavioral Medicine Center
The treatment program is tailored to the individual's unique strengths and resiliencies.
Separate floors for men, women and youth allow us to better meet the different needs of each of these groups
The Therapeutic Activities Team ensures that patients participate in a wide variety of individual, group and family counseling programs.
Peer Specialists, trained advocates, assist each patient.
Patients and their families are included as part of the treatment team.
A multi-disciplinary team of psychiatrists, psychologists, nurses, therapists, counselors and peer specialists designs each patient's treatment plan.
Most major insurance plans are accepted.
Treatment and Hope:
For more than 50 years, the Behavioral Medicine Center has been helping people with psychiatric illnesses lead fulfilling and productive lives. Recovery begins the day a patient arrives - working with the individual and a multidisciplinary team to determine the best possible treatment plan.
How to Refer
Call the Behavioral Medicine Center's 24-hour direct referral line: 850.469.5811
Patients may go directly to the Baptist Hospital emergency room, where they will be immediately received in a separate, secure and private psychiatric area.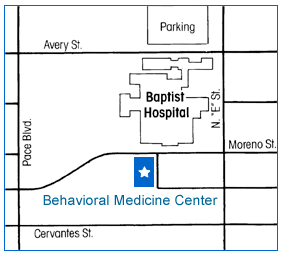 1101 West Moreno Street
Pensacola, FL 32501
850.434.4808
Visiting Hours
Visiting hours are daily from 4 to 6 p.m.