Baptist Medical Group - Ladies First OBGYN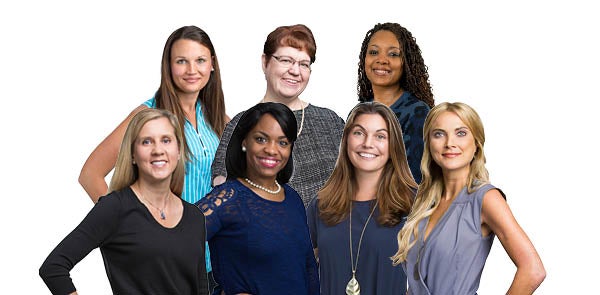 New Patient Paperwork
DEPARTMENT OF BAPTIST HOSPITAL
At Baptist Medical Group – Ladies First OB/GYN, we provide you with obstetric and gynecological health care and care for women throughout all stages of their adult lives. In doing so, we provide timely, preventative care, including diagnosing and treating women's health problems, well woman and prenatal care. We deliver babies for both normal and high-risk obstetrical patients.
Our practice is small, intimate and dedicated to providing each patient with special, individualized care. We are committed to our patients and hope that you know this with each and every visit. We also provide care in several area locations including Gulf Breeze and Jay.
We're passionate about educating women and helping them live healthier, happier lives. In fact, we regularly offer free seminars and health advice to our community.
Medical Services
Each of our doctors provides outstanding, cost-effective obstetric and gynecologic care including:
Obstetrics
Ultrasounds as needed throughout
Pregnancy testing
Prenatal care and delivery
Family planning counseling
Post-partum care
Gynecology
Annual exam
Pap smear
Colposcopy
HPV testing
STD testing, treatment, counseling
Contraceptive counseling
Gynecologic surgeries
Pelvic ultrasound
Libido
Menopause
Fibroid diagnosis, management
Our Providers
Tracey Ann Thomas-Doyle, M.D., a board-certified obstetrics and gynecology physician with many prestigious academic, research and surgical honors, including becoming the first gynecologist in Pensacola to perform a robotic-assisted hysterectomy. She specializes in low and high-risk obstetrics and gynecology as well as minimally invasive surgery techniques.
Regina McCutcheon, M.D., MPH, is a highly skilled OB/GYN physician who specializes in women's health. She has a passion for women's health care and provides gynecologic and obstetric care to women of all ages and risk levels. Dr. McCutcheon is currently welcoming new patients.
Leslie Sanders, M.D., is a board-certified highly skilled obstetrics and gynecology physician. She is known for providing compassionate care to women of all ages and has experience in minimally invasive and other surgical techniques.
Erika Schneider, M.D., a board-certified obstetrics and gynecology physician with a passion for patient care. She specializes in caring for women of all ages and risk levels. She's also experienced in minimally invasive and other surgical techniques.
Kayla Bodree, R.N., MSN, WHNP-BC, is an advanced registered nurse practitioner (APRN) who specializes in women health. She offers routine gynecologic and obstetric care as well as overall women's health care to patients at Baptist Medical Group – Ladies First.
Connie Killam, APRN, is an experienced, board-certified women's health nurse practitioner. Ms. Killam offers routine gynecologic care, obstetric care, birth control consultations, and overall women's health care. She is a member of the American Academy of Nurse Practitioners and the Association of Women's Health Obstetrical & Neonatal Nurses.
What to Bring
Please bring your completed new patient paperwork, a valid photo ID, your current insurance card and any current prescriptions or medicine you're taking to your appointment. You are always welcome to bring a significant other, family member or caregiver with you to your appointment.
Arrival
To help you have the best possible experience at your appointment, we ask that you please arrive 15 minutes prior to your appointment time.
Missed Appointment
To ensure we're able to continue to provide the personal care you expect from a Baptist Medical Group physician, it's important that you let us know immediately upon realizing you may be unable to keep your appointment. We request you notify the office with at least 24 hours notice whenever you are unable to keep your appointment.
Financial Information
We are currently accepting most insurance companies. Please contact your insurance carrier/payor to verify coverage. Your insurance can verify if prior authorization must be obtained from your primary care physician prior to scheduling.
It's our policy that co-payments, co-insurance, deductibles and any outstanding balances are due at the time of service. This means that you will be expected to pay those items (as defined by your insurance policy) while at our office for your scheduled appointment. For your convenience, we accept payments in cash, check or credit card.
It's important to note that you are financially responsible for the care you receive, even if your insurance does not pay. If you have questions, we encourage you to contact our office and our staff will do everything we can to serve you.
Patient Pap Smear Test Results
Patient pap smear test results are available by accessing mytestresults.com
Web Access:
www.mypatienttestresults.com
Customer / Client # 18772812910
User ID: Your SS# Example: 123456789
PIN: DOB (MMDDYYYY)
Phone Access:
Toll-Free 1.877.681.2910
User ID: SS# Example 123456789
PIN: DOB (MMDDYYYY)
Please allow 10 business days from your visit before checking for results.

Community Involvement
Physicians, providers and the staff of Baptist Medical Group – Ladies First OB/GYN are very involved in Pensacola and surrounding communities. We enjoy providing special free educational seminars on women's health.