Baptist Occupational Health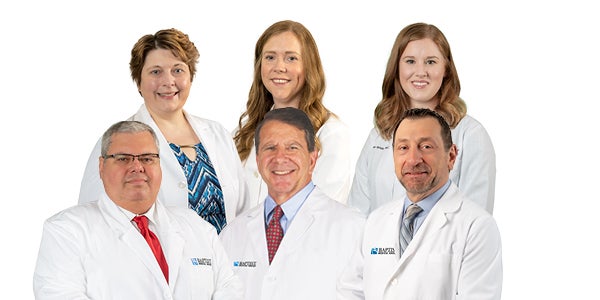 New Patient Paperwork
Baptist Occupational Health at Baptist Medical Park - Nine Mile and Baptist Medical Park - Airport is the area's leading designated occupational medicine center. This clinic is a full-service clinic, dedicated entirely to the prevention and treatment of workplace injuries and illnesses. The goal of Baptist Occupational Health is to provide caring and competent medical care to all injured workers. This state-of-the-art clinical care will help our corporate clients realize improve productivity, decrease absenteeism, decrease on-the-job injuries and reduce medical expenses for our corporate clients. To learn more, please read below or call our office at 850.208.6400.
Medical Services
Baptist Occupational Health can provide the following services:
Physical Examinations
Class III Physicals
Explosive handlers physical
Fitness for duty/return to work exam
Merchant mariner exams
Post offer exams
Periodic regulatory exams
Injury Care Treatment
Workers' compensation follow-up visit
Bloodborne pathogen exposure treatment
Substance Screening & Testing
Blood and breath alcohol testing
Drug-free workplace program
Hair collection testing
Medical review officer services
Saliva testing
Nursing Services
Blood draws for immunization titers
Electrocardiogram (EKG)
Lift test
Physical agility testing
Pulmonary function testing/spirometry
Tuberculosis PPD skin test
Tuberculosis quantiferon gold test
Vision screenings (Snellen, Titmus, Ishihara)
OSHA Required Surveillance
Audiometric testing hearing conservation
Asbestos
Benzene
Cadmium
Lead
Mercury
Noise
Pesticides
Vaccines / Immunizations
Routine workplace vaccinations
Other Services
Onsite nursing services – call for specific services available
For scheduling appointments and additional information requests, please contact Baptist Occupational Health by email at occupationalhealthdept@bhcpns.org.
Our Providers
The facility offers one-stop medical care for injured workers and is supported by physicians and advanced practice providers who are trained in all areas of occupational health. Baptist Occupational Health's qualified staff provides a convenient entry point to the comprehensive medical care your employees need to stay healthy and fit for work.
Employer Portal

Baptist Occupational Health offers easy access to all employee records through a HIPAA compliant portal. iSystoc Log-In
iSystoc confidentiality agreement
For more information on becoming an authorized iSystoc user please contact us @ 850.208.6400 or via email @ occupationalhealthdept@bhcpns.org.
Appointment Information
Appointments are requested for all provider-based services except for initial injury care. Physicals, respirator fit testing, and pulmonary function testing require an appointment.
You can contact our office at 850.208.6400 to schedule an appointment over the phone or by email at occupationalhealthdept@bhcpns.org.