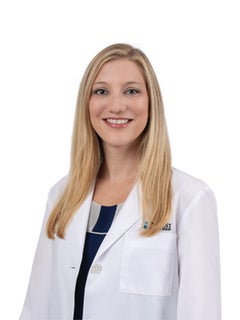 ---
Biography
Amanda R. Self, MSN, FNP-C, is a certified family nurse practitioner who offers quality Family Medicine services to patients at Baptist Medical Group Primary Care – North Hill, located on the Baptist Health Care main campus. Along with a team of expert providers, she offers quality, convenient care. Amanda is currently welcoming new patients.
Medical Degree
Master of Nursing, Auburn University Montgomery
Montgomery, AL
Auburn University
Auburn, AL
Certifications
American Academy of Nurse Practitioners
ACLS, BLS, CPR and AED
Memberships
American Association of Nurse Practitioners
Advanced Practitioners for River Region
Sigma Theta Tau International Honor Society of Nursing
Meet your provider
What led you to become a Nurse Practitioner or choose your focus ofmedicine?
I have always felt a calling to help others. My aunt, an inspiring ICU nurse, also encouraged me to pursue a nursing career.
What about your line of work do you find most rewarding and why?
I love when I'm able to help my patients feel great and improve their quality of life. It is rewarding to make a difference in someone's life.
What is something about you that only your patients would know?
I truly care about each patient's well-being.
How would a patient describe you?
I would hope my patients describe me as caring and competent.
What's your proudest moment as a provider?
When my patients report that they feel great and are able to live life!
In your opinion, what's the most important factor in a provider-patient relationship?
Trust, kindness, and commitment to care.
What can a patient expect when they have you as a provider?
My goal is to treat every patient as an individual. I will treat your current medical conditions and focus on health promotion and disease prevention as well.
What do you find most encouraging about the work you do?
I love building relationships with my patients and helping them to understand their medical conditions and options to treat/manage them.