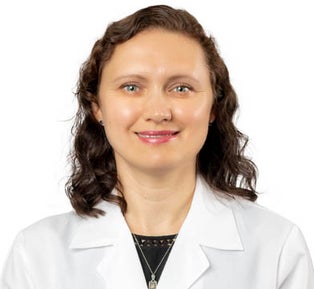 ---
Biography
Anastasiya Powell, APRN, MSN, FNP-C, is a board-certified nurse practitioner who provides electrophysiology care to patients at Baptist Heart & Vascular Institute. She works closely with patients and their families to develop care plans to best meet their needs.
Medical Education
Masters of Science, Nursing
University of South Alabama
Mobile, AL
Northwest Florida State College
Niceville, FL
Residency / Clinical Sites
Pediatrics: Eglin Air Force Base
Pensacola, FL
Family Medicine: Baptist Medical Park – Navarre
Navarre, FL
Internal Medicine: Southern Breeze Healthcare
Niceville, FL
Obstetrics & Gynecology: Ascension Medical Group
Pensacola, FL
Urgent Care: Quality Urgent Care and Wellness
Pensacola, FL
Certification
Board, American Academy of Nurse Practitioners.
Meet Your Provider
What led you to become a nurse practitioner or choose your focus of medicine?
I started my career as a nurse. Since I enjoy learning and developing myself professionally, I decided to pursue a career as a family nurse practitioner. I now have the benefit to provide care to patients of all ages. I enjoy explaining to my patients their medical conditions as a way of connecting and keeping them informed on what is happening as well as being able to give patients tips on how to stay healthier.
What about your line of work do you find most rewarding and why?
The most rewarding aspect in nursing is to see my patients get better. The happiness from the families brightens my day, as they are able to see their loved one return home. Making a difference in someone's life make me feel appreciated.
What is something about you that only your patients would know?
As told by former patients, I am an excellent caregiver. I put the needs of my patients before my own to ensure they are comfortable and pleased with their care.
How would a patient describe you?
Patients would describe me as compassionate, caring and knowledgeable.
What is your proudest moment as a nurse practitioner?
I have not been a nurse practitioner for long time. My proudest moment is passing my boards and getting certified as a nurse practitioner.
In your opinion, what is the most important factor in a nurse practitioner-patient relationship?
The most important factor in a practitioner-patient relationship is honesty and trust to make sure that everything is being done correctly and professionally to ensure complete satisfaction of the patient.
What can a patient expect when they have you as a nurse practitioner?
They can expect me to give each situation my full attention to determine what the problem is and the most effective solution to allow for the best care possible.
What do you find most encouraging about the work you do?
The most encouraging thing about the work I do is having the opportunity to meet new people and learn new things that will broaden my knowledge to make me an even better provider.
What are your top priorities with every patient you see?
My top priority with every patient is to make sure they are receiving the best care and are happy with their results.
Describe one of the top ways you ensure each patient receives the quality, personal health care he/she deserves.
One of the ways I assure quality of my care is listening to patients concerns. I am approachable and welcome questions. I try to explain my treatment plan in the way patients understand.
Is there anything more or extra you would like prospective patients to know about you?
I love to travel and explore different cultures to build a perspective of the world through trying new foods and visiting many places.
Do you have any specific medical interests?
My passion is heart and its related conditions.