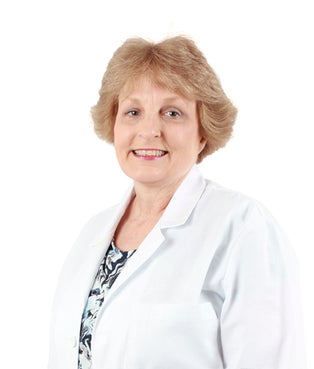 ---
Biography
Barbara Johnson, APRN-BC, WCC, is an experienced post-acute care nurse practitioner with Baptist Medical Group – Senior Health. Post-acute nurse practitioners specialize in providing skilled and compassionate care to mature adults in a variety of settings, including long-term nursing facilities and skilled nursing units.
Medical Degree
MSN, South Alabama
Mobile, AL
Certifications
ANCC Geriatric Nurse Practitioner
Clinical Specialties
Geriatric care
Meet the Provider
What led you to become a provider or choose your focus of medicine?
After being a nurse for more than 20 years I had a desire to know more, I wanted to further my education.
What about your line of work do you find most rewarding and why?
I love human contact and interaction with patients and families. I love to teach, especially to nurses so that they understand why we do what we do. There are very few professions that allow someone to truly make a difference in someone's life, and this is certainly one of those.
How would a patient describe you?
Genuine, sincere and approachable.
In your opinion, what's the most important factor in a provider-patient relationship?
Honesty. There are a lot of times that the news we bring to people may not be the best of news, but it is their news. They need to be able to trust what you say and know that you are there for them.
What is your proudest moment as a provider?
I had an elderly gentleman with dementia come in along with his wife to discuss the results of a CT scan he had on his back a few weeks prior. I read over the report silently, then looked up at him and said, "It says you have arthritis." He collapsed into my arms and sobbed like a baby. For weeks he had been reading and re-reading that report and was positive that all those big words that he couldn't understand must mean he had cancer or some other dreaded disease. This simple action just reinforced how taking a moment, however brief, to help someone understand something is so vital to their well-being.
What can a patient expect when they have you as a provider?
That I will take just as good care of them as I would my own family.
What do you find most encouraging about the work you do?
That it is necessary and can truly make a difference.
What are your top priorities with every patient you see?
Naturally, I "prioritize" their medical conditions, but with that comes the establishment of personal goals for people and incorporating a holistic approach to their needs. For example, just as important as their broken hip is the fact that their husband is going through radiation for his lung cancer.
Describe one of the top ways you ensure each patient receives the quality, personal health care he/she deserves.
I tend to be overly thorough when reviewing medical records. I am a detail-oriented person and tend to flip many times through the record to be sure I did not miss something.
Is there anything more or extra you would like prospective patients to know about you?
I am a breast cancer survivor and can truly relate to what it is like to have the carpet pulled out from underneath you.
Do you have any specific medical Interest?
I grew up watching Perry Mason and Marcus Welby. I always knew I wanted to go into law or medicine. I would love to study law at some point in my life and incorporate that into my medical knowledge, perhaps as a consultant.