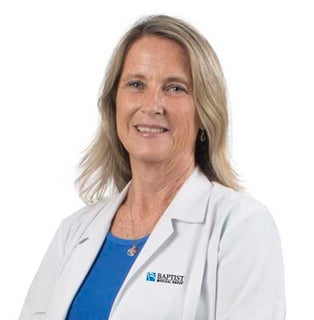 ---
Location(s)
Senior Health
Baptist Hospital
1000 West Moreno Street
Pensacola FL , 32501
Phone: 850.469.7406
View Map
---
Biography
Bonnie Bell, ARNP, is a certified advanced nurse practitioner and is a post-acute care nurse with Baptist Medical Group – Senior Health. Post-acute nurse practitioners specialize in providing skilled and compassionate care to mature adults in a variety of settings, including long-term nursing facilities and skilled nursing units.
Medical Degree
Master of Science in Nursing
University of South Alabama
Mobile, AL

Bachelor of Science in Nursing
Florida Hospital of Health Sciences
Orlando, FL

Certification
American Academy of Nurse Practitioners

Memberships
America Academy of Nurse Practitioners
American Gastroenterological Association
Meet your Provider
What led you to become a nurse practitioner or choose your focus of medicine?
I started in healthcare at age 19. My passion for helping people led me to my current career.
What about your line of work do you find most rewarding and why?
I find the role that education and appropriate medical management play in presenting illness the most rewarding.
What is something about you that only your patients would know?
I provide them the tools to empower them to reach their optimal health.
How would a patient describe you?
Caring
In your opinion, what's the most important factor in a provider-patient relationship?
Mutual trust.
What can a patient expect when they have you as a provider?
To be treated as a person, not a medical condition.
What do you find most encouraging about the work you do?
Being part of a team, a true passion for providing quality care for our community.
What are your top priorities with every patient you see?
Effective communication, individualized care plans.
Describe one of the top ways you ensure each patient receives the quality, personal health care he/she deserves.
Staying up to date with current practice guidelines.
Is there anything more or extra you would like prospective patients to know about you?
I strive to listen carefully to concerns.
Do you have any specific medical interests?
Preventive health and screenings.