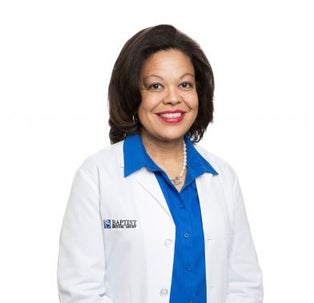 ---
Biography
Dr. Jeffries is a board-certified internal medicine physician. She provides compassionate care for adults at her office conveniently located at Baptist Medical Park - Navarre, Medical Office Building in Navarre. She welcomes new patients ages 18 and up.
Medical Education
University of North Carolina School of Medicine, Chapel Hill N.C.
Residency
Carolinas Medical Center, Charlotte, NC
Board Certifications
American Board of Internal Medicine
Memberships
American College of Physicians
Meet your Doctor
What led you to become a doctor or choose your focus of medicine?
I have wanted to be a physician since childhood. I loved the biological sciences and I have an aunt who is a dentist. She encouraged my interest. I chose internal medicine because of the daily variety and the reward of providing continuing care, and really getting to know your patients.
What about your line of work do you find most rewarding and why?
Helping patients improve their quality of life.
How would a patient describe you?
They would say that I really listen to them, and that I am a straight shooter. Most talk to me as if I am their best friend.
What's your proudest moment as a doctor?
The outpouring of love, cards, gifts, tears, and heartfelt appreciation from my patients as I recently left my practice after 20 years to move to Pensacola.
In your opinion, what's the most important factor in a doctor-patient relationship?
Trust is most important. The patient must trust that the physician is knowledgeable and doing his or her best, and the physician must trust that the patient is honest and forthcoming.
What can a patient expect when they have you as a doctor?
They can expect very personal compassionate quality care.
What do you find most encouraging about the work you do?
I love getting to know my patients and I am encouraged when I see that together we are making a positive impact on the quality of their lives.
What are your top priorities with every patient you see?
To be an effective listener, and to really try to hear their concerns and complaints. I believe that the patient will give you most of the information that you need to diagnose and treat them, if you take the time to listen and ask the appropriate questions.
Describe one of the top ways you ensure each patient receives the quality, personal health care he/she deserves.
I try to stay abreast of the latest diagnostic and treatment protocols, and I know when it is appropriate to ask for assistance or help with a difficult case. But it all starts with actively listening to the patient.
Is there anything more or extra you would like prospective patients to know about you?
That I recently got engaged which is the reason I relocated to Pensacola. I have two great kids that I brag/worry about all the time, and I am a great cook! Also, I am a great patient advocate!
Do you have any specific medical interests?
I am most interested in wellness and preventative care.