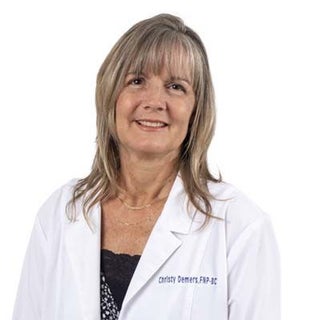 ---
Biography
Christine Demers is a certified family nurse practitioner (FNP-C) who offers quality Family Medicine services to patients at Baptist Medical Group Family Medicine - Nine Mile, located on the Baptist Medical Park – Nine Mile campus.
Medical Degree
Vanderbilt University School of Nursing
Nashville, TN
Certifications
American Nurses Credentialing Center
Clinical Interest
Prevention
Women's Health
Chronic Illness

Additional Information
To learn more about Christine Demers, FNP-BC, and her services, please visit her practice page, Baptist Medical Group Primary Care – Gulf Breeze.
Meet Your Provider
What led you to become a doctor or choose your focus of medicine?
I was in school for physical therapy but wanted to do more than bones and joints or sports medicine, and a secretary at the school said I would make a great nurse practitioner.
What about your line of work do you find most rewarding and why?
I like helping and teaching people to take care of themselves, and I like treating multiple chronic illnesses.
What is something about you that only your patients would know?
I work with my patients for a plan that best benefits them. I don't dictate a plan of care.
How would a patient describe you?
Friendly, non-judgmental, smart and trustworthy
What's your proudest moment as a provider?
Honestly, I don't have one. I give the credit to God.
In your opinion, what's the most important factor in a provider-patient relationship?
A working relationship built on trust
What can a patient expect when they have you as a doctor?
To educate them to the best of my ability to help them care for the illness and prevention
What do you find most encouraging about the work you do?
Getting patients involved and improving compliance
What are your top priorities with every patient you see?
To give them the time they need to help them through the issues they are dealing with