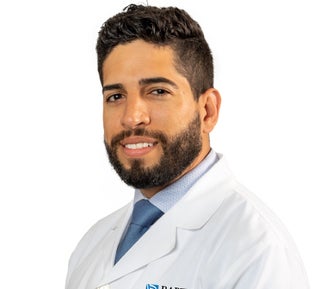 ---
RATINGS & REVIEWS
The provider star rating is calculated using patient reponses to the five care provider questions in our patient satisfaction survey. Below you can see the provider's star rating and the number of his or her patients who have provided feedback.
4.9
Provider discussed treatment options
---
4.9
Provider showed concern
---
4.9
Provider explained things clearly
---
4.9
Provider included you in decisions
---
4.9
Likelihood of recommending this provider
---
---
Comments
3/30/2022
He listened and made me feel at ease about my issue. I felt comfortable talking to him.
---
3/30/2022
Best doctor patient experience in a long time
---
3/23/2022
I will recommend Dr. David to everyone. He is the Best.
---
3/22/2022
My primary care was out, Dr. ""E" was most accommodating, very positive experience. Dr. Echeverri was professional, personal, pleasant, and very thorough . . Went above and beyond to help with appropriate scheduling of follow up testing and appts.
---
3/20/2022
Very good
---
3/20/2022
Dr. Echeverri was amazing. He listened to all of my concerns, made me feel comfortable and like he truly cared. Will highly recommend!
---
3/20/2022
Good
---
3/18/2022
Dr Echeverri is a very good listener and he shows genuine concern. He thoroughly explains treatments and instigates patient participation.
---
3/17/2022
Very professional yet personable
---
3/17/2022
All staff are amazing
---
3/16/2022
Good
---
3/09/2022
Very happy with Dr Echeverri, but puzzled by his lack of availability on some weekdays, when I call for an appointment. Would prefer not driving 25 miles to see someone I am not familiar with.
---
3/04/2022
Dr. Echeverri is a wonderful doctor. Very concerning and informative.
---
2/25/2022
Dr Echeverri gave me by far my favorite experience with a healthcare provider. He is unusual in that he listens carefully, treated me with great respect, and provided me multiple options for my various concerns. I really appreciate his open-mindedness and generally progressive nature.
---
2/23/2022
One of the best docs I've ever visited.
---
2/19/2022
Dr. Echeverri was very good and listened to my concerns. We had a great visit.
---
2/06/2022
Dr. Echiverri has terrific bedside manner. He listens, which is greatly appreciated. He never seems rushed or disengaged. I am highly satisfied with his services.
---
Biography
David Echeverri, M.D., is a highly-skilled, family medicine physician who provides quality and convenient health care to the entire family. He is conveniently located in Baptist Medical Park – Airport and welcomes new patients.
Medical Degree
Ross University School of Medicine
Portsmouth, Dominica, West Indies
Residency
South Baldwin Regional Medical Center
Foley, AL
Certifications
American Board of Family Medicine
Memberships
American College of Physicians
American Academy of Family Physicians
Family Physicians Inquiries Network