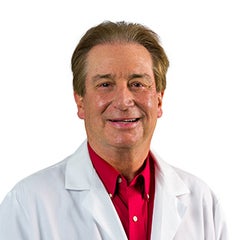 ---
Location(s)
---
---
---
---
Biography
Dr. David Miles is a fellowship-trained cardiologist who specializes in treating cardiovascular diseases and works with patients to offer comprehensive cardiovascular treatment plans that best meet their conditions and needs. He welcomes new patients.
Medical Education
Tulane University School of Medicine
New Orleans, LA.
Internship
Tulane University
New Orleans, LA
Residency
Tulane University
New Orleans, LA
Fellowships
Cardiology, Shands Hospital
University of Florida
Gainesville, FL.
Memberships
American College of Cardiology
American Society of Echocardiography
LIPID Society
Clinical Specialties
Noninvasive Cardiology
Cardiac care
Echo
Nuclear
Lipidology)
Meet the Doctor

What about your line of work do you find most rewarding and why?
My interactions with people and helping them deal with complex cardiac disease.
How would a patient describe you?
Outgoing and friendly and always listening with patience.
What's your proudest moment as a doctor?
My forty years of care to the Pensacola community and surrounding areas.
In your opinion, what's the most important factor in a doctor-patient relationship?
Fostering a feeling of trust and that you always have their best interests at heart.
What can a patient expect when they have you as a doctor?
That I will always do my best and will always go the extra mile in their care.
What do you find most encouraging about the work you do?
The many advancements I have seen in cardiac care during my career.
What are your top priorities with every patient you see?
To render the best and most updated care and to always communicate with the patient and their families.
Describe one of the top ways you ensure each patient receives the quality, personal health care he/she deserves.
I always listen patiently and treat all individuals with respect.