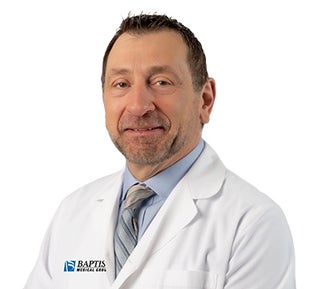 ---
Biography
Dr. Frank Francone serves as the medical director for Baptist Occupational Health. He is an experienced health care provider with an extensive background in occupational health, emergency medicine, urgent care, and family medicine. He and his staff are dedicated to caring for workers' compensation injuries as well as patients who require pre-employment exams and testing.
Medical Degree
University of Ottawa School of Medicine
Ottawa, Canada
Residency
Florida Hospital
Orlando, FL
Clinical Interests
Occupational health medical surveillance
Workplace injuries
On-site medical services and safety
Flight medicine - FAA exams
Drug testing policy
Immigration examinations
Certifications
American Board of Family Medicine
Department of Transportation
American Academy of Medical Review Officers
Federal Aviation Administration
US Customs and Immigration Service – Immigration Exams
Meet the Doctor
What led you to become a doctor or choose your focus of medicine?
From a very early age, I have always wanted to become a doctor to help people.
What about your line of work do you find most rewarding and why?
There is no greater reward than using my skills to help and to heal.
What is something about you that only your patients would know?
That I take the time to listen and that I involve my patients as partners in their care.
How would a patient describe you?
Friendly, good listener, caring, and professional.
In your opinion, what's the most important factor in a doctor-patient relationship?
Having mutual trust and an open and honest relationship.
What can a patient expect when they have you as a doctor?
That they will be treated with respect. And that I will listen to their concerns and partner with them to provide the highest quality of care possible.
What do you find most encouraging about the work you do?
Knowing I can make a positive impact on the lives of others.
What are your top priorities with every patient you see?
To provide compassionate, patient-centered care to the best of my ability.
Describe one of the top ways you ensure each patient receives the quality personal health care he/she deserves.
By engaging patients as active participants in their care, I believe patients and physicians benefit with a higher level of quality and satisfaction.
Is there anything more you would like the prospective patients to know about you?
I have the training and experience to treat their acute care problems efficiently and professionally.
Do you have any specific medical interests?
The spectrum of acute and chronic work-related illnesses, illness prevention in the workplace, flight medicine, immigration medical examinations