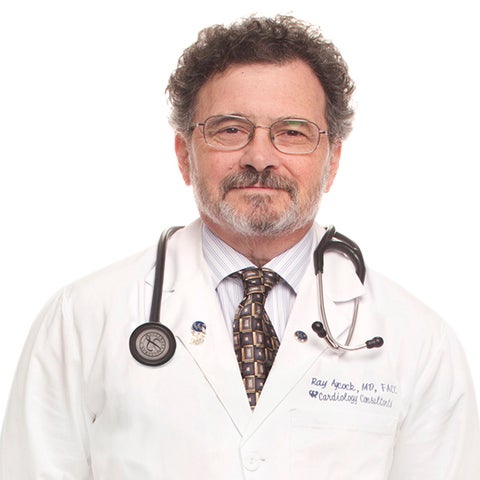 ---
RATINGS & REVIEWS
The provider star rating is calculated using patient reponses to the five care provider questions in our patient satisfaction survey. Below you can see the provider's star rating and the number of his or her patients who have provided feedback.
4.8
Provider discussed treatment options
---
4.8
Provider showed concern
---
4.8
Provider explained things clearly
---
4.8
Provider included you in decisions
---
4.8
Likelihood of recommending this provider
---
---
Comments
7/31/2022
Good
---
7/26/2022
Good
---
7/25/2022
Dr. Aycock was extremely caring, and informative. Dr Aycock took the time to listen to my concerns.
---
6/16/2022
Good
---
6/01/2022
Great
---
5/31/2022
Care was provided a doctor and pa.
---
5/31/2022
Great
---
5/26/2022
Baptist health care has kept me alive after my severe heart attack. I have been able to see my grandchildren grow up. Thank you very much.
---
5/24/2022
Good
---
5/24/2022
Very good
---
5/23/2022
Dr Aycock is the best Heart Doc
---
5/20/2022
Good experience
---
4/16/2022
Professional
---
4/15/2022
I have been a patient of Dr. Aycock's for over 30 years, he has always been professionsal and thorough with my health care.
---
4/05/2022
Good
---
4/02/2022
Dr Aycock is great, sorry he is retiring.
---
4/01/2022
Because of Dr . Aycock and his full recommendation and explanation I made the decision to have the Ablation for Afib .
---
3/19/2022
No bad
---
3/19/2022
Dr. Aycock is great.
---
3/18/2022
Didn't want to hear about past treatment after asking
---
Biography
Dr. Aycock has over 30 years of cardiology experience and a reputation for excellence in patient care. He specializes in treating cardiovascular diseases and works with patients to offer comprehensive cardiovascular treatment plans that best meet their conditions and needs.
Medical Education
University of South Carolina
Charleston, SC
Residency
Internal Medicine
Medical College of Virginia
Richmond, VA
Fellowship
Cardiology
Medical College of Virginia
Richmond, VA
Board Certifications
Cardiovascular Disease
Internal Medicine
Society Memberships
Fellow, American College of Cardiology
Fellow, Society for Cardiac Angiography and Intervention
Clinical Specialties
Advanced Coronary Intervention
Peripheral Vascular Disease and Intervention
Meet your Doctor
What led you to become a doctor or choose your focus of medicine?
I wanted to be a doctor since early childhood. My uncle, who was a role model for me, was a pediatrician.
What about your line of work do you find most rewarding?
Interaction with people and the constant need to study and advance knowledge.
What's your proudest moment as a doctor?
Achieving a result that allows a patient to return to a level of better function.
In your opinion, what's the most important factor in a doctor-patient relationship?
Trust.
What can a patient expect when they have you as a doctor?
Honesty, competence and strong patient advocacy.
What do you find most encouraging about the work you do?
The ability to offer new and better therapy almost every year and the significantly improved outcomes achieved that I've seen throughout my 30 years of practice.