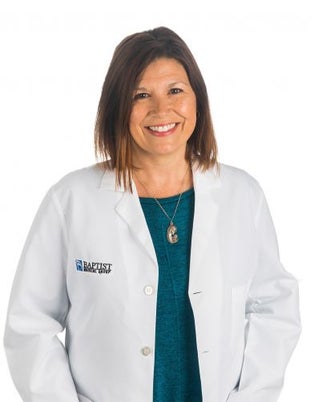 ---
RATINGS & REVIEWS
The provider star rating is calculated using patient reponses to the five care provider questions in our patient satisfaction survey. Below you can see the provider's star rating and the number of his or her patients who have provided feedback.
4.9
Provider discussed treatment options
---
4.9
Provider showed concern
---
4.9
Provider explained things clearly
---
4.9
Provider included you in decisions
---
4.9
Likelihood of recommending this provider
---
---
Comments
3/31/2022
Julie Baltz is excellent. She discussed the plan to lower my blood pressure and it is working.
---
3/28/2022
Again, professional, courteous and respectful. Listened and offered information as requested
---
3/09/2022
Julie Baltz was phenomenal. I was in tears by the end of the visit because after years of trying to find answers, she was the first to really listen, to be concerned about my overall well-being, and to be willing to dig deep and see if all of my concerns could have one source.She is so informed and well-trained on women's health and how intricate our bodies and hormones are, I cannot wait to recommend her to others. Thank you for offering telehealth to make it accessible for me to receive good healthcare.
---
3/03/2022
Fabulous PA and NP! They always have my best interest in mind when caring for me.
---
2/24/2022
Julie Baltz is the most caring medical provider I have ever had. She truly is the best!
---
2/18/2022
Very good bedside manner!
---
2/17/2022
Julie is fantastic and such an amazing PA. She's so knowledgeable and really cares
---
2/10/2022
Have recommended her to many people and everyone loves her.
---
2/10/2022
Julie Baltz is excellent.
---
2/09/2022
Vry happy with Julie Baltz, a great, caring doctor.
---
2/03/2022
Julie takes.time.to listen and offer solutions where I feel.she respects and lets.me.make choice on my health plan. She makes.me.feel important like I'm her only patient. Great listener, I feel.safe with her
---
2/03/2022
Not at this visit but Dr. Baltz has been very helpful in recommending other Doctors for my referrals.
---
2/02/2022
Julie Baltz did not sway my decision in having ovaries checked and breast exam even though I am currently 72 years of age. I explained to her my mother having passed away at my age from ovarian cancer and that I thought should have a pap smear. She explained they were primarily for the uterus concerns, and I could have the ovaries checked if I wanted. I did request and felt reassured she was of the same mind set I have in preventative medical care. She is really easy to talk to and gives pertinent information when requested.
---
Biography
Julie Baltz, MHS, PA-C, is an experienced family medicine physician assistant who specializes in procreative care at Baptist Medical Group Primary Care – Live Oak. She and her dedicated team offer the perspective of restorative reproductive health including education on charting the menstrual cycle to optimize health. She is currently accepting both new charting and new medical patients.
Medical Degree
Masters in Health Science, Physician Assistant Studies
University of South Alabama
Mobile, AL
Clinical Interests
Female
Whole family
Athlete care and enhancement
Certification
Fellow, The Reproductive Health Research Institute
Natural Family Planning
Trained medical consultant of FEMM, NaPro/CrMS, Billings, and Marquette fertility appreciation.