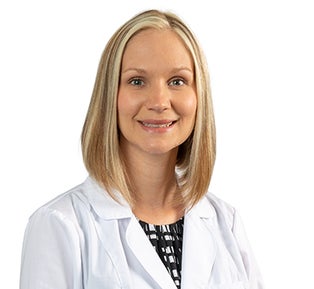 ---
Biography
Katie is a board-certified nurse practitioner with experience caring for patients at her office in Century.
Medical Degree
Master of Science in Nursing
University of South Alabama
Mobile, AL
Certifications
Family Nurse Practitioner
What led you to become a doctor or choose your focus of medicine?
I chose to become a nurse practitioner because I have always had a passion for helping others. My line of work allows me to improve my patient's lives, which in turn gives me great joy.
What about your line of work do you find most rewarding and why?
The most rewarding part of my job is knowing I have positively impacted my patient's life.
How would a patient describe you?
Compassionate, great listener, always smiling
In your opinion, what's the most important factor in a doctor-patient relationship?
Trust
What can a patient expect when they have you as a nurse practitioner?
My patients can always expect my undivided attention. Also, I always include my patient in his/her plan of care.
What are your top priorities with every patient you see?
My top priorities are to make sure every patient knows he/she can trust me, every patient feels included in his/her treatment plan, and every patient is completely satisfied with the quality of care I have provided.
Describe one of the top ways you ensure each patient receives the quality, personal health care he/she deserves.
I make sure each patient receives the highest quality of care by making sure the treatment provided is evidence based.
Is there anything more or extra you would like prospective patients to know about you?
I thoroughly love my job as a nurse practitioner. I am committed to my patients, and I am committed to always providing the highest quality care to every patient I see.