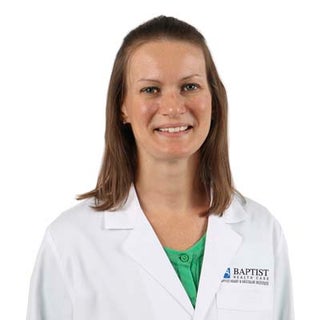 ---
Biography
Lacy Michelle Kusy, APRN-C is an experienced nurse practitioner who provides care to patients at Baptist Heart & Vascular Institute and Cardiology Consultants. She works closely with her patients to provide a care plan that best meets their need.
Medical Education
University of Tampa
Tampa, FL
Board Certifications
American Academy of Nurse Practitioners
Memberships
Sigma Theta Tao Nursing Honor Society
Clinical Specialties
Cardiovascular Disease
Meet the Provider
What led you to become a nurse practitioner or choose your focus of medicine?
I have been a nurse for nine9 years and have fully enjoyed caring and educating others on their health. I decided to expand my knowledge and become a nurse practitioner. I chose to become a nurse practitioner because I truly enjoy teaching others on how to live a healthier life in order to maintain the highest quality of life possible.
What about your line of work do you find most rewarding and why?
I enjoy when patients see the fruits of their labor and are proud of their health. What I find rewarding is when patients take charge of their healthy lifestyles and use me and my career knowledge as a guide to better their lives.
What is something about you only your patients would know?
That I genuinely enjoy each and every patient and the connection that I make from with them helps me learn and grow in my career.
How would a patient describe you?
My hope is that a patient would describe me as someone that who genuinely cares for the patient's health and quality of life. I listen and allow the patient to fully explain his/her thoughts, fears, successes, and goals in order to incorporate all of these into the patient's' unique and specific health care plan.
What is your proudest moment as an advanced practitioner?
As a new practitioner, I look forward to many proud moments. I look forward to the patient/-provider relationships that I will develop.
In your opinion, what's the most important factor in an advanced practitioner/-patient relationship?
Trust. The patient and the advanced practitioner must be able to trust each other in order to maintain open communication for the best quality of care.
What can a patient expect when they have you as an advanced practitioner?
Health care is a two way street. I will educate and use my knowledge to help the patient attain the best quality of health possible. When patients take charge of their healthy lifestyles I believe they fully appreciate a greater quality of life.
What do you find most encouraging about the work you do?
The continued advancement of knowledge in health care is unbelievable! I am excited to join this knowledge base and continue to expand my knowledge.
What are your top priorities with every patient you see?
That each patient feels like a priority, that they feel empowered to better their health, and that they feel comfortable with me to communicate their hopes, worries, and goals.
Describe one of the top ways you ensure each patient receives the quality, personal health care he/she deserves.
I take the time to talk to and treat the patient as a person, outside of the provider / patient office. Patients are human beings and not just a "patient,", and I seek to ensure that each patient feels this way.
Is there anything more or extra you would like prospective patients to know about you?
I am always open to learning new and better ways to do my job in order to provide my patients with the best patient experience. Patient satisfaction is a high priority for me so I seek to be a provider that patients trust, value, and feel comfortable communicating with about their health.
Do you have any specific medical interests?
Cardiology