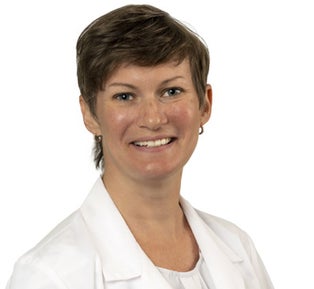 ---
Biography
Lacy Michelle Kusy, APRN-C is an experienced nurse practitioner who provides care to patients at Baptist Medical Group - Endocrinology. She works closely with her patients to provide a care plan that best meets their need.
Medical Education
University of Tampa, APRN-C
Tampa, FL
University of Central Florida, BSN
Orlando, FL
Board Certifications
American Academy of Nurse Practitioners
Memberships
American Association of Nurse Practitioners
Sigma Theta Tau International
Clinical Specialties
Endocrinology
Meet The Provider
What led you to become a nurse practitioner or choose your focus of medicine?
I have always enjoyed helping others and utilizing the knowledge and experience I have gained to help make a positive impact on others.
What about your line of work do you find most rewarding and why?
Making a positive impact and educating on approaches to improve quality of life.
What is something about you only your patients would know?
That I genuinely enjoy the connections I make and the role I am privileged to share in a patient's health.
How would a patient describe you?
Genuine, compassionate, and kind.
What is your proudest moment as an advanced practitioner?
Feeling like I have made a difference in a patient's life.
In your opinion, what's the most important factor in an advanced practitioner/-patient relationship?
Trust and open communication.
What can a patient expect when they have you as an advanced practitioner?
A collaborative and patient centered approach.
What do you find most encouraging about the work you do?
The continued advancement of knowledge in health care is unbelievable! I am excited to continue expanding my knowledge.
What are your top priorities with every patient you see?
That each patient feels like a priority, and comfortable communicating their hopes, worries, and goals.
Describe one of the top ways you ensure each patient receives the quality, personal health care he/she deserves.
I take the time to discuss all options with the patient and family, and ensure they feel comfortable and involved in treatment plans.
Is there anything more or extra you would like prospective patients to know about you?
I am always open to learning new and better ways to enhance the patient experience. Patient satisfaction is a high priority for me, and I seek to be a provider that patients trust, value, and feel comfortable communicating with about their health.