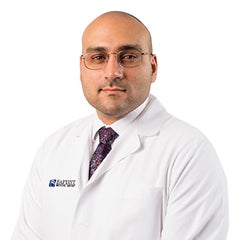 ---
RATINGS & REVIEWS
The provider star rating is calculated using patient reponses to the five care provider questions in our patient satisfaction survey. Below you can see the provider's star rating and the number of his or her patients who have provided feedback.
4.8
Provider discussed treatment options
---
4.8
Provider showed concern
---
4.8
Provider explained things clearly
---
4.8
Provider included you in decisions
---
4.8
Likelihood of recommending this provider
---
---
Comments
3/30/2022
Good
---
3/29/2022
Excellent
---
3/23/2022
I already bragged about this Doctor
---
3/19/2022
Was very pleased with Dr. Sahawneh's concern for my problems, and the plan going forward.
---
3/15/2022
Really like Dr Mark! Good listener, exam and explaining all options.
---
3/10/2022
All good. I was early and got called in relatively fast.
---
3/09/2022
Professional, courteous.
---
3/05/2022
I love my doctor! Best doctor I have ever had! Going to switch my grandson who is 16 over to him as primary physician
---
2/03/2022
Didn't rush me through the appointment. He listened to my concerns
---
Biography
Mark Sahawneh, M.D., is a highly skilled Family Medicine physician who treats patients of all ages, providing quality care for the entire family. He takes the time to build strong relationships with his patients and works with them individually to develop a care plan that best meets their conditions and needs. Dr. Sahawneh is currently accepting new patients.
Medical Degree
Ross University School of Medicine
Miramar, FL
Residency
Chief Resident, Montgomery Family Medicine Residency Program
Baptist Health
Montgomery, AL
Memberships
American Academy of Family Physicians
American Medical Society of Sports Medicine
Clinical Specialties
Family Medicine with a focus on Ambulatory and Sports Medicine
Meet Your Doctor
What led you to become a doctor or choose your focus on medicine?
Providing long-term care across the life spectrum and meeting the physical, emotional, and social needs of patients and their families are what led me into family medicine.
What about your line of work do you find most rewarding and why?
Building a life-long and lasting relationship with my patients and working to deal with their ailments and not just dealing with the disease process itself.
What is something about you that only your patients would know?
Extremely approachable and yet incredibly detailed and will not let you leave with unanswered questions. I will pretty much do anything do get you to crack a smile and laugh.
How would a patient describe you?
Kind, supportive, compassionate
What's your proudest moment as a doctor?
When I hear from patients or their families on the great impact I may have unexpectedly had on a loved one or their family.
In your opinion, what's the most important factor in a doctor-patient relationship?
Combined decision-making with both the physician and patient and if necessary, their families.
What can a patient expect when they have you as a doctor?
Someone who is going to be their advocate and medical support system.
What do you find most encouraging about the work you do?
Medicine is changing at an amazingly fast pace, so things that did not have treatments in the past may now have treatment options. Staying on top of this is what always drives me to be the most up-to-date in the latest in medical journals and literature.
What are your top priorities with every patient you see?
Make sure they understand their diagnosis and how it affects them as well as going through combined decision-making when it comes to treatment options.
Describe one of the top ways you ensure each patient receives the quality, personal health care he/she deserves.
Each of my patients will get quality, personalized health care by going through my process of evaluation, most especially on their first visit. With each subsequent visit, I further tailor the health needs of the patient by leveraging combined decision-making with the patient as well as addressing any other concerns that the patient may have.
Is there anything more you would like prospective patients to know about you?
Outside of medicine, I enjoy playing ultimate frisbee, running, watching Alabama college football, and reading about the latest in biomedical and computer technology.
Do you have any specific medical interests?
As a Family Medicine physician, I am able to provide long-term care across the life spectrum from neonates to geriatrics. My specific areas of interest are more in Adult Ambulatory/Hospital Medicine as well as Sports Medicine.