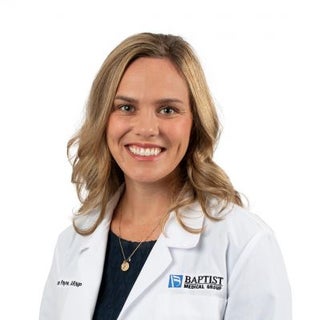 ---
RATINGS & REVIEWS
The provider star rating is calculated using patient reponses to the five care provider questions in our patient satisfaction survey. Below you can see the provider's star rating and the number of his or her patients who have provided feedback.
4.8
Provider discussed treatment options
---
4.8
Provider showed concern
---
4.8
Provider explained things clearly
---
4.7
Provider included you in decisions
---
4.6
Likelihood of recommending this provider
---
---
Biography
Meghan Payne is a compassionate family nurse practitioner who works exclusively with Baptist Medical Group Primary Care - Nine Mile practice. Alongside a team of expert physicians and advanced practice providers, she offers quality, convenient care. Meghan is currently accepting new patients.
Medical Education
Louisiana State University Health Sciences Center
New Orleans, LA
Master of Science, Nursing
University of Scranton
Scranton, PA
Bachelor of Science, Nursing
Certifications
Advanced Cardiac Life Support
Basic Life Support
Additional Information
To learn more about Meghan Payne, BSN, R.N., M.N., FNP-C, and the services she provides, please visit her practice page at BaptistMedicalGroup.org.
Meet your Provider
What led you to become a provider or choose your focus of medicine?
I have always been happy to help people feel better, whether it be physically or mentally. The basis of my Jesuit education was "men and women for others". In addition, my mother is a physical therapist. While growing up I saw how much she enjoyed a profession in health care and how she care positively affected people's life. These influences led me to the nursing profession and eventually to become a nurse practitioner.
I became a nurse 11 years ago to make a difference in patients' care. I spent a lot of time at the bedside both on the floor and in the ICU taking care of patients and their family members' ailments, and concerns. Eventually, I felt I wanted to have more of an autonomous role in the health care field and also wanted to care for people holistically.
What about your line of work do you find most rewarding and why?
The most rewarding part of being a nurse practitioner is the ability to give people the tools to live a healthier, happier life. It is so rewarding to have patients' say that the care they received helped them feeli better and achieve a better quality of life.
What is something about you that only your patients would know?
I will listen to the reasons for their visit and try to give them the most up-to-date, quality, affordable health care possible.
How would a patient describe you?
Considerate, smart, attentive, nurturing, responsive.
In your opinion, what's the most important factor in a provider-patient relationship?
Communication. If we can communicate to each other the problems and concerns and the plan of care and make sure that there is an understanding between the provider and the patient, it will lead to better outcomes and happier, healthier patients.
What can a patient expect when they have you as a provider?
They can expect holistic, affordable and quality health care. They also can expect best practice guidelines.
What do you find most encouraging about the work you do?
When patients' return saying they have followed the plan of care and that they feel better and are grateful for my help. Another rewarding aspect is that there is always new medical research, clinical trials and investigations into procedures and medicine that may help people feel better, have a better quality of life, and save more lives down the road.
What are your top priorities with every patient you see?
That they feel that their concerns are heard and addressed. Also that they have been treated with the most up-to-date, best practice guidelines, and that the patient receives quality care at an affordable price.
Describe one of the top ways you ensure each patient receives the quality, personal health care he/she deserves.
I am sure to ask patients if they have any more comments, questions, or concerns about their plan of care at the end of each visit. I also will give my card and print out the plan of care to give them to refer back to.
Anything extra?
I grew up in the Philadelphia, Pennsylvania area. I moved to New Orleans, Louisiana as a travel nurse after helping with Habitat for Humanity after Katrina. I lived in New Orleans, and workedat Tulane Medical Center and then at St. Thomas Community Health Center for years before moving to Pensacola this past fall. I am a runner, a yogi, and an avid animal lover.