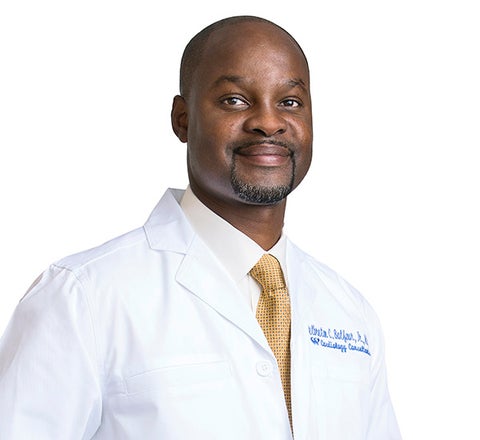 Pelbreton Balfour Jr., M.D., M.S., FACC
Cardiology
---
RATINGS & REVIEWS
The provider star rating is calculated using patient reponses to the five care provider questions in our patient satisfaction survey. Below you can see the provider's star rating and the number of his or her patients who have provided feedback.
4.7
Provider discussed treatment options
---
4.7
Provider showed concern
---
4.8
Provider explained things clearly
---
4.7
Provider included you in decisions
---
4.7
Likelihood of recommending this provider
---
---
Comments
7/20/2022
Dr. Balfour is best cardiologist I've had. I like his ability to explain things to me; he's very accepting of questions and concerns I've expressed. I'm never "rushed" during my appointment.
---
7/14/2022
The physician addressed all my concerns and provided excellent education. My goals and wishes were included in the treatment planning.
---
7/04/2022
Dr. Balfour heard my concerns and treated me professionally but also showed awareness of my wholeness as a person and my current life circumstances and financial status.
---
5/23/2022
I was very pleased with the interest and care the PA gave us. She was very thorough, attentive and kind.
---
5/17/2022
Good
---
5/15/2022
Dr Balfour explained everything very well and listened to my concerns. He made me feel very comfortable.
---
5/14/2022
Dr Balfour is an excellent doctor and I have nothing but respect for his knowledge and experience in his field. I have complete faith in him to recommend and treat me to keep my heart in check
---
5/05/2022
Great job
---
4/30/2022
Answered all my questions Very patient
---
4/28/2022
Love Dr Balfour he is a excellent listener and explains questions well
---
4/19/2022
Provider doesn't know what is causing my condition, which I understand. However, advice given was to return to my primary care (who referred me in the first place) with no explanation of why he wasn't ordering an echo for follow up in a year. He did not warn me what symptoms could signal a worsening of my condition,.
---
4/13/2022
Good
---
4/11/2022
Overall very good experience.
---
3/23/2022
Dr Balfour treats his patients in an excellent manner.
---
3/23/2022
I had several questions and Dr. Balfour answered every one of them with great detail. He encouraged me to let him know my concerns, and he was very knowledgeable. Very pleased with the doctor.
---
3/22/2022
Dr. Balfour was professional, caring, and comprehensive about my health and well-being.
---
3/12/2022
Good
---
3/12/2022
Wasted trip
---
3/10/2022
I really like Dr. Balfour
---
3/02/2022
I think he is serious about his work and is probably very competent but feel that it was unnecessary for me to be in there and I would hope that other patients never have to wait that long 42-minute exam
---
Biography
Dr. Pelbreton Balfour is a fellowship-trained cardiologist with Baptist Heart & Vascular Institute who specializes in treating cardiovascular diseases and works with patients to offer comprehensive cardiovascular treatment plans that best meet their conditions and needs. He welcomes new patients.
Medical Education
University of Pittsburgh School of Medicine
Pittsburgh, PA
Wake Forest School of Medicine
Winston – Salem, NC
Residency
University of Virginia Health System
Charlottesville, VA
Fellowships
Wake Forest School of Medicine
Winston-Salem, NC
Clinical Cardiology and Research Fellowship
University of Virginia Health System
Charlottesville, VA
Advanced Cardiovascular Imaging Fellowship
American College of Cardiology
Washington, D.C.
Cardiology Fellowship
Board Certification
Internal Medicine
Professional Memberships
American Society of Nuclear Cardiology
Association of Black Cardiologists
American College of Cardiology
American Heart Association