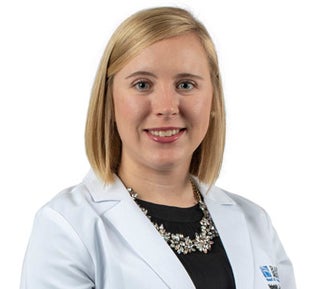 ---
Biography
Rebekah Wyrosdick, APRN is a highly skilled family nurse practitioner who offers quality Family Medicine services to patients at Baptist Medical Group Primary Care – North Hill, located on the Baptist Health Care main campus. Along with a team of expert providers, she offers quality, convenient care. Rebekah is currently welcoming new patients.
Medical Degree
Masters of Science in Nursing
University of South Alabama
Mobile, AL
University of West Florida
Pensacola, FL
Certification
American Academy of Nurse Practitioners
Memberships
American Association of Nurse Practitioners
Sigma Theta Tau International
Additional Information
To learn more about Rebekah Wyrosdick, APRN, and her services, please visit BaptistMedicalGroup.org.
Meet your Provider
What led you to become a nurse practitioner or choose your focus of medicine?
I thoroughly enjoyed my years of nursing, but there was always a drive and a desire inside of me to be able to do more for my patients and to expand my knowledge base. Becoming a nurse practitioner allows me to further my care for the patients I meet by implementing individualized treatment plans and providing them with the resources needed to have the highest quality of life possible.
What about your line of work do you find most rewarding and why?
I love when I can educate patients on their health care problems where they are able to understand what is going on and make the necessary changes within their own lives to improve their outcomes. The joy that they receive knowing they played a part in their care is rewarding.
What is something about you that only your patients would know?
That even though I may be treating them for a specific complaint or concern, I care about them as a person and not only as a patient and that I truly enjoy the patient-provider relationships
that are built.
How would a patient describe you?
Attentive, trustworthy, compassionate
In your opinion, what is the most important factor in a nurse practitioner-patient relationship?
Trust, honesty and transparency are the more important factors in a relationship with my patients.
What can a patient expect when they have you as a nurse practitioner?
Patients can expect me to truly listen to their concerns. Health care is not "one size fits all," and I believe that each patient requires an individualized plan that works for them and their lifestyle. I want to work with my patients to formulate a plan that will not only improve their outcomes but also provide them with a quality of life they are pleased with.
What do you find most encouraging about the work you do?
Health care can be a very rewarding and encouraging job. Knowing that medicine is rapidly
advancing and that I can provide patients with treatments that weren't available 10 years ago to improve their life is encouraging and exciting!
What are your top priorities with every patient you see?
I want each patient to feel like they are important –because they ARE. I do not want patients to feel rushed, and I will make it my priority to listen, answer any questions or concerns they have and provide them with a plan of care that will fit them as well as following up-to-date and
evidence-based guidelines.
Is there anything more or extra you would like prospective patients to know about you?
I want them to know that I am here and available to help them; my job is not to judge their illness or decision but to make their life better.