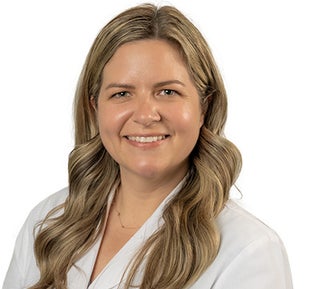 ---
RATINGS & REVIEWS
The provider star rating is calculated using patient reponses to the five care provider questions in our patient satisfaction survey. Below you can see the provider's star rating and the number of his or her patients who have provided feedback.
4.8
Provider discussed treatment options
---
4.9
Provider showed concern
---
4.8
Provider explained things clearly
---
4.8
Provider included you in decisions
---
4.8
Likelihood of recommending this provider
---
---
Biography
Angela Martinsen is a board-certified physician assistant in gastroenterology. She offers quality care to patients on the Gulf Coast and is welcoming new patients at several office locations.
Medical Degree
Master's, University of South Alabama Physician Assistant Studies
Mobile, AL
University of Wisconsin-Madison
Madison, Wisconsin
Certification
National Commission on Certification of Physician Assistants
Clinical Specialties
General Gastroenterology
Hepatology

Meet Your Provider
What led you to become a physician assistant or choose your focus of medicine?
I have always had a drive for helping people. I started a career of service in college where I was a home health aide for a disabled veteran, and my desire to pursue medicine grew from there.
What about your line of work do you find most rewarding and why?
Helping patients get relief. Patients don't typically come to see me because they are feeling well, they come because there is an issue. And being able to diagnose and treat them for that, and in turn improve their quality of life is the most rewarding aspect of my career.
What is something about you that only your patients would know?
I love learning about their live outside of what brought them in to see me. If I can ask how their families are doing or how their summer went, I will take the time to do so. I like connecting with my patients beyond the exam room
How would a patient describe you?
I would hope they would describe me as thorough and caring.
What's your proudest moment as a physician assistant?
Honestly, any time I can improve a patient's quality of life I consider that my proudest moment.
In your opinion, what's the most important factor in a doctor-patient relationship?
Being open and honest as both a provider and a patient.
What can a patient expect when they have you as a provider?
They should expect that I will do my best to diagnose and treat them with care and compassion.
What do you find most encouraging about the work you do?
Patient satisfaction is very rewarding. Again, I have always had a drive for helping people, and when I can improve a patient's quality of life that is the most encouraging.
What are your top priorities with every patient you see?
I strive to provide efficient, high quality care with care and compassion.
Describe one of the top ways you ensure each patient receives the quality, personal health care he/she deserves.
I listen to my patients and have a discussion with them regarding their goals of their visit starting at day 1.
Is there anything more or extra you would like prospective patients to know about you?
I love home renovation and traveling. If I'm not at work, I'm either taking a trip or I'm somewhere in my house with a hammer in hand.
Do you have any specific medical interests?
Gastroenterology with an emphasis on hepatology and cirrhosis.