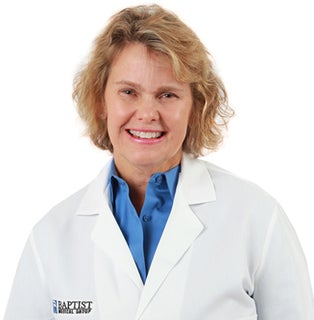 ---
Biography
Susanne Meaney is a compassionate, board-certified family nurse practitioner (FNP-C) and a certified diabetes educator (CDE) who offers quality health care at Baptist Medical Group Primary Care - Gulf Breeze. Susanne is currently accepting new patients.
Medical Education
Family Nurse Practitioner
University of Alabama at Birmingham
Birmingham, AL
Certifications
American Association Nurse Practitioners
National Certifying Board of Diabetes Educators
DOT NRCME Medical Examiner
Clinical Specialties
Diabetes education
Meet your Provider
What led you to become a doctor or choose your focus of medicine?
I have worked with amazing physicians in my career, and have found I can serve as a bridge between them and their patients.
What about your line of work do you find most rewarding and why?
Adapting to a changing health care environment is rewarding and helps keep best practices at the forefront of patient care.
What is something about you that only your patients would know?
I feel compassion that drives me to help my patients.
How would a patient describe you?
I am easy to be around. Patients feel at ease when they are in my care.
What's your proudest moment as a provider?
Each day is full of proud moments when I get through to a patient and they understand their care plan.
In your opinion, what's the most important factor in a provider-patient relationship?
The most important factor in my opinion is communication.
What can a patient expect when they have you as a provider?
If I don't know the answer to a patient's question, I will find the answer and get back to them.
What do you find most encouraging about the work you do?
Communicating and working with our physicians to care for our patients.
What are your top priorities with every patient you see?
My priorities are to have compassion, be trustworthy, and focused on my patient's concerns.
Describe one of the top ways you ensure each patient receives the quality, personal health care he/she deserves.
I feel that each patient deserves to have my full attention when they are in my care.
Do you have any specific medical interests?
My interests are in diabetes education and prevention.