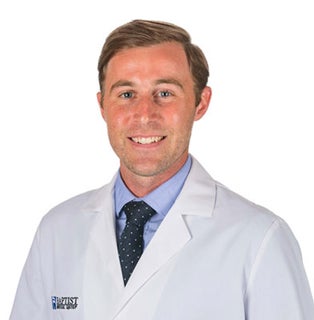 ---
Biography
Dr. Thomas Babcock is a board - certified physician specializing in otolaryngology – head and neck surgery. He is Pensacola's first fellowship-trained ear, nose and throat subspecialist treating adult and pediatric disorders of the ear and skull base. He offers treatment and diagnosis of a wide scope of ear, nose, throat, head and neck conditions with a special focus on management of conditions of the ear and lateral skull base including hearing, balance, and facial nerve disorders, as well as chronic ear disease and lateral skull base tumors. Dr. Babcock and his dedicated team welcome new patient appointments weekdays from 8 a.m. to 5 p.m.
Medical Degree
Florida State University College of Medicine
Tallahassee, FL
Internship
Otolaryngology – Head and Neck Surgery
University of Florida College of Medicine
Gainesville, FL
Residency
Otolaryngology – Head and Neck Surgery
University of Florida College of Medicine
Gainesville, FL
Fellowship
Otology, Neurotology, Lateral Skull Base Surgery
Jackson Memorial Hospital/University of Miami Miller School of Medicine
Miami, FL
Certifications
American Board of Otolaryngology
Certified Diplomat of the American Board of Otolaryngology
Memberships
American Academy of Otolaryngology – Head and Neck Surgery
American Neurotology Society
American College of Surgeons
Florida Society of Otolaryngology
Clinical Specialties
Otolaryngology – Head and Neck Surgery
Otology
Neurotology
Lateral Skull Base Surgery
Meet the Doctor
What led you to become a doctor or choose your focus in medicine?
During high school, I had the opportunity to shadow physicians in Pensacola, prompting my initial interest in medicine. Subsequently, during medical school, my most influential mentor was an otolaryngologist in Pensacola. He not only spurred my interest in otolaryngology but also demonstrated the potential impact a subspecialty surgeon can have in the greater Pensacola area. He had taken care of several generations of some families in Pensacola during the course of his career. I am fascinated by the intricate anatomy of the head and neck and, although it is an anatomically small area, there is a wide range of conditions that can involve the head and neck. Treating patients with disorders involving the head and neck has the potential to have a significant positive impact on their lives, such as treating head and neck cancer or restoring hearing.
What about your line of work do you find most rewarding and why?
Cochlear implants for children and adults may be the most rewarding procedure I perform. For children, they are often born unable to hear and will not be able to hear unless they have a cochlear implant. It is incredibly rewarding and remarkable to follow these children after surgery as they develop speech and perform well in school; it can be a truly life changing procedure for the patient and their family. For adults, the loss of hearing can lead to social isolation and decreased the quality of life. Some of my most rewarding patients are adults with cochlear implants who are able to communicate with loved ones and interact in society after years of struggling with hearing loss.
In your opinion, what's the most important factor in a doctor-patient relationship?
Mutual trust. A physician should promote trust with respect, communication, empathy, competence, professionalism and advocacy for the patient and their care.
What are your top priorities with every patient you see?
I strive to give each patient 100% of my attention during a visit so they are truly heard and I can provide the best care possible. During a visit, I hope patients feel comfortable and have a good understanding of their condition as well as the management options so they can be an active participant in their care.

Is there anything more or extra you would like prospective patients to know about you?
In addition to completing an otolaryngology residency, I completed an additional two years of training as an ear surgeon that subspecializes in treating diseases of the middle ear, temporal bone, and skull base. Typically, physicians with this training practice in academic hospitals and large metropolitan areas. I am excited to bring this subspecialty care to my hometown for the first time.
Do you have any specific medical interests?
I enjoy taking care of patients with any condition involving the head and neck but have a particular interest in ear-related disorders. I specialize in treating adult and pediatric patients with hearing, balance, and facial nerve disorders, as well as chronic ear disease and lateral skull base tumors.