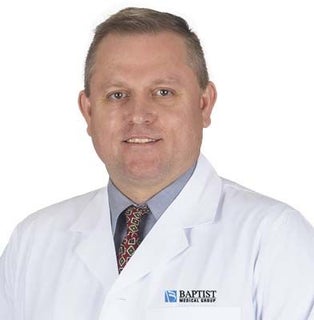 ---
RATINGS & REVIEWS
The provider star rating is calculated using patient reponses to the five care provider questions in our patient satisfaction survey. Below you can see the provider's star rating and the number of his or her patients who have provided feedback.
4.9
Provider discussed treatment options
---
4.9
Provider showed concern
---
4.9
Provider explained things clearly
---
4.9
Provider included you in decisions
---
4.9
Likelihood of recommending this provider
---
---
Comments
3/30/2022
Dr Tuel is a very capable, professional and engaging physician. I am lucky to have him as a my doctor and Baptist Healthcare is lucky to have him as one of their physicians.
---
3/24/2022
Excellent Dr. Tuel.
---
3/23/2022
Excellent
---
3/23/2022
I recommend dr Tuel and his nurse to as many people every chance I get!
---
3/14/2022
I felt like I was being rushed through and no relationship was being established for future visits.
---
3/09/2022
Care and feeling listened to we're exceptional
---
3/09/2022
Dr Tuel is the best
---
3/06/2022
We love Dr tuel
---
2/25/2022
It was a very good experience
---
2/21/2022
Dr. Tuel continues to have an honest, "I'm here for you" treatment manner giving causes and effect answers to my condition and life issues. He is a professional with the attitude that is warm and helpful.
---
2/20/2022
A comfortable, informative experience, makes medical care a comfort.
---
2/17/2022
Always the best experience
---
2/17/2022
Dr Tuel is the BEST.
---
2/16/2022
Dr. Tuel is a huge asset to Baptist. He is caring and he never lets his patients feel like they're a burden to him.
---
2/14/2022
We are very pleased with Dr. Tuel!!!
---
2/12/2022
Dr Tuel is very clear with instructions and advice. He takes enough time with patients as well.
---
2/06/2022
Dr Tule was nice to work with
---
Biography
Timothy R. Tuel, M.D., is a highly skilled family medicine physician who provides quality and convenient health care to patients age 5 and older in Pensacola. Dr. Tuel prides himself on his ability to listen to the needs of each patient while providing reliable, quality care to patients of all ages. Dr. Tuel is currently accepting new patients.
Medical Degree
Uniformed Services University of Health Sciences
Bethesda, MD
Residency
96th MDG /Eglin Air Force Base Hospital
Eglin Air Force Base, FL
Clinical Interests
Diabetes, Hypertension, Hyperlipidemia, Depression, Anxiety, Dermatology and Joint Pain
Certifications
Diplomat American Board of Family Practice
Advanced Cardiac Life Support
Pediatric Advanced Life Support
Advanced Trauma Life Support
Memberships
American Board of Family Medicine