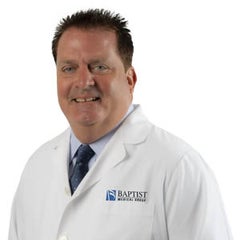 ---
Biography
Vincent B. Barker, M.D., is a highly skilled family medicine physician ith over 15 years of experience in emergency and family medicine. He provides quality and convenient health care to the Gulf Breeze community. Dr. Barker prides himself on his ability to listen to the needs of each patient while providing reliable, quality care to people of all ages. Dr. Barker is currently accepting new patients.
Medical Degree
American University of the Caribbean School of Medicine
St. Marten, Netherlands Antilles
Residency
Chief Resident, Reading Hospital
Reading, PA
Certification
American Board of Family Medicine
Memberships
American Academy of Family Practice
Clinical Interest
Sports Medicine
Family Medicine
Meet the Doctor
What led you to become a doctor or choose your focus of medicine?
When I was a teenager, I hurt my knee playing football and was intrigued by the medical field. I also had a family friend who encouraged me to enter the medical field.
What about your line of work do you find most rewarding and why?
Taking care of people in the community is the best reward.
What is something about you that only your patients would know?
I am empathetic, passionate, and forthright.
How would a patient describe you?
A patient would describe me as hardworking and as a caring doctor.
What is your proudest moment as a doctor?
I feel proud every time I help and treat a patient and their family.
In your opinion, what is the most important factor in a doctor-patient relationship?
To have a clear and open line of communication.
What can a patient expect when they have you as a doctor?
They can expect me to be a hardworking, caring, and honest doctor.
What do you find most encouraging about the work you do?
I am encouraged by this community and taking care of their families.
What are your top priorities with every patient you see?
My top priority is the personal interaction with the patient as well as to make sure they are comfortable with the visit and their plan of care.
Describe one of the top ways you ensure each patient receives the quality, personal health care they deserve.
I treat my patients as if they are my family.
Is there anything more or extra you would like prospective patients to know about you?
That I am thorough, passionate, and professional.
Do you have any specific medical interests?
My medical interest includes general practice, emergency medicine, and sports medicine.