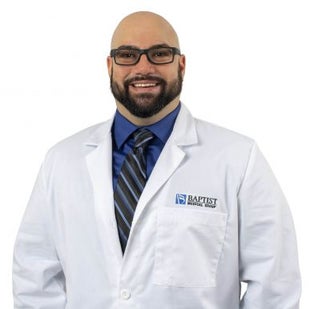 ---
RATINGS & REVIEWS
The provider star rating is calculated using patient reponses to the five care provider questions in our patient satisfaction survey. Below you can see the provider's star rating and the number of his or her patients who have provided feedback.
4.6
Provider discussed treatment options
---
4.6
Provider showed concern
---
4.6
Provider explained things clearly
---
4.6
Provider included you in decisions
---
4.5
Likelihood of recommending this provider
---
---
Comments
3/11/2023
Extremely happy and grateful for my EXCELLENT PROACTIVE care by Dr. (NP) THOMPSON.
---
12/07/2022
The thoroughness and care that was utilized in delivering information about my condition and answering my questions was outstanding.
---
12/02/2022
All went well and I would highly recommend
---
9/01/2022
Dr was awesome. Didn't make me feel like he wasn't listening or concerned about my problems.
---
8/01/2022
Good
---
7/22/2022
Wes Thompson always listens and explains things well.
---
5/08/2022
He listened very patiently and helped me feel relieved that I can get help
---
5/06/2022
I am thankful to be treated by Wes
---
4/26/2022
Wes Thompson best PA I have ever dealt with. So caring, wants to get to the root of your problem and treats you like you are his only patient. My hospital stay was horrible because of the trauma/general surgeon and Wes did all he could do for me. [...] also very fine man
---
Biography
Wes Thompson, DNP, APRN, FNP-C, AGACNP-BC, is a certified advanced nurse practitioner who offers quality care to patients on the Gulf Coast. He welcomes new patients at several offices located in Pensacola.
Medical Degree
Doctor of Nursing - Unversity of South Alabama
Mobile AL
Master of Nursing, University of South Alabama
Mobile, AL
Certifications
American Academy of Nurse Practitioners, Family Nurse Practitioner
American Nurses Credentialing Center, Adult/Gerontology Acute Care Nurse Practitioner
Basic Life Support
Additional Information
To learn more about Wes Thompson, MSN, R.N., ARNP, FNP-C, AGACNP-BC, and his services, please visit BaptistMedicalGroup.org.
Meet your Provider
What led you to become a doctor or choose your focus of medicine?
I've always had an interest in health and sciences, as well as helping people. Becoming a health care provider just came natural to me.
What about your line of work do you find most rewarding and why?
Most of the people who come to me for help can truly be helped. While a cure is only an occasional outcome in medicine, relief of symptoms is a common and attainable goal in gastroenterology, and reassurance is almost always possible.
What is something about you that only your patients would know?
I am a highly driven and devoted individual.
How would a patient describe you?
Empathic, caring, and down to earth.
What's your proudest moment as a doctor?
To be able to go home at the end of the day feeling that I have been a critical member of the health care team.
In your opinion, what's the most important factor in a doctor-patient relationship?
Trust.
What can a patient expect when they have you as a doctor?
That I will always try and share a smile.
What do you find most encouraging about the work you do?
Of all the medical specialties, gastroenterology offers the greatest chance to achieve positive results and even cures. Also, healthcare is incredibly diverse and constantly expanding, the opportunities are endless.
What are your top priorities with every patient you see?
Building a collaborative relationship.
Describe one of the top ways you ensure each patient receives the quality, personal health care he/she deserves.
By empowering patients to take control of their health through education and a mutually inclusive health care strategy.
Do you have any specific medical interests?
Acute infectious diseases of the GI tract
GERD
Inflammatory Bowel Disease
GI Bleeding
Liver Disease
Diet and its role in gut health
Nutrition and Medical Education