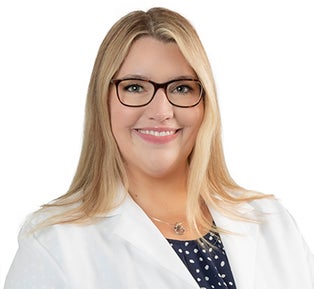 ---
RATINGS & REVIEWS
The provider star rating is calculated using patient reponses to the five care provider questions in our patient satisfaction survey. Below you can see the provider's star rating and the number of his or her patients who have provided feedback.
4.7
Provider discussed treatment options
---
4.8
Provider showed concern
---
4.8
Provider explained things clearly
---
4.7
Provider included you in decisions
---
4.7
Likelihood of recommending this provider
---
---
Comments
7/23/2022
The PA was excellent. She was caring in all her responses. Highly skilled and with it an exceptional way of dealing with the public.
---
7/08/2022
Whitney Cartwright listened very intently to me explaining my problem and pain I have been experiencing. She was very concerned and got the test I needed right away and found the problem that was causing the intense pain I was in. Baptist health care is very lucky to have Whitney. She has certainly earned my trust. Thank you Whitney!
---
7/07/2022
Extremely satisfied with Whitney Cartwright. Will not change providers.
---
7/02/2022
Have always had great confidence in my doctor/PA. They have explained throughly what to expect before and after any procedures. I have already recommended them to other people.
---
5/29/2022
Whitney Cartwright was Fabulous!!! She listened to all my concerns. We went over all the Data and came up with a game plan for follow on care. She was Awesome!!!!
---
5/26/2022
Good
---
5/26/2022
Good experience,!!
---
5/23/2022
Still feeling weak and tired all of the time and not getting any sleep.
---
5/22/2022
Whitney answered extremely well all my questions I threw at her. I found her concerned & very caring
---
5/19/2022
I really liked this PA.
---
5/17/2022
Mrs Cartwright is extremely knowledgeable about medical issues & conditions, testing, treatment options, medications, etc. She is very kind, & compassionate, & takes time to explain things, answer any questions, & give good suggestions & advise about my healthcare both Cardiology & my General health & well-being. Thank you!!
---
4/28/2022
I am so glad to be back with Baptist.
---
4/20/2022
Ms. Cartwright was a superb provider, one of the best that I have ever seen.
---
4/15/2022
Trust Cartwright with my life, as much as any Dr.
---
4/07/2022
Best care from everyone in this office!!
---
4/06/2022
L can't think of nothing else but good things
---
4/01/2022
Love my doctors. [...] is a great cardiologist. He put me on the right combination of BP medications without having to try several others and they have worked very well.. Dr. Cartwright is fantastic. They listen to my concerns and explain treatment clearly. You can tell they care about their patients. That's very important to me In selecting and keeping a doctor. Thank you for such great doctors.
---
4/01/2022
Completely competent and knowledgeable
---
3/29/2022
Good
---
3/29/2022
She was very attentive and gave me feedback on any problems I was having.
---
Biography
Whitney Cartwright, MSN, APRN, FNP-C, is an experienced, board-certified practitioner who provides care to patients at Baptist Heart & Vascular Institute. She works closely with her patients to provide a care plan that best meets their needs.
Medical Degree
Masters, University of South Alabama
Mobile, AL
University of West Florida
Pensacola, FL
Certifications
American Academy of Nurse Practitioners
Memberships
American Association of Nurse Practitioners
Sigma Theta Tau Nursing Honor Society