Baptist Cardiology Team One of the Nation's First to Implant Newest Device for Cardiac Pacing
Only seven days since the Food and Drug Administration granted final approval for a new type of Biotronik cardiac defibrillator, Baptist Hospital, with the support of their team of 28 cardiovascular specialists, Cardiology Consultants, has become one of the very first heart centers in the nation and the only heart hospital in the region to offer the device, and related improved outcomes, for patients with heart rhythm care needs on the Gulf Coast.
Implantable cardiac devices (ICDs) are sophisticated electronic devices that are implanted to help prevent sudden cardiac death in patients with ventricular tachycardia or fibrillation – a fast heart rhythm.
Known officially as Biotronik Lumax 740 DX System, this newly available single-chamber ICD, uses a single thin flexible wire – called a lead – to deliver an electrical pulse to the heart when the heart rate becomes dangerously fast, which then returns the heart to proper function. The innovative device can sense vital changes in heart rhythm in both the atrium and the ventricle of the heart through its single lead, offering an enhanced way of gaining important and useful atrial signal information without the risk of implanting multiple leads.
"We are the regional leader in cardiovascular services, and offering this innovative cardiovascular device is just another reason why people on the Gulf Coast can count on Baptist Health Care for the best in heart care," shares Mark Faulkner, president and chief executive officer, Baptist Health Care.
The new ICD available at Baptist through Biotronik's initial market evaluation, expands the diagnostic capabilities of a standard single-chamber ICD with a single lead, in addition to featuring sophisticated sensors that allow for atrial monitoring and enhanced arrhythmia diagnosis, overcoming limitations of prior single-lead ICD systems. It also offers the potential to reduce the risk of stroke by enhancing detection of atrial fibrillation. Additionally, the technology helps discriminate supraventricular tachycardias (SVTs), AF and atrial flutter to reduce the risk of inappropriate shocks.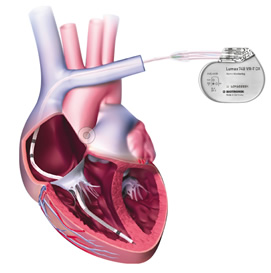 To make an appointment with the physicians of the Baptist Heart & Vascular Institute, please call the Cardiology Consultants office at 850.484.6500.