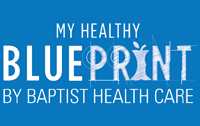 About My Healthy Blueprint

Frequently Asked Questions
What do I have to do to earn the insurance premium reductions?
Returning Participants
STEP 1: Schedule and complete your annual wellness exam with your primary care provider (PCP) before or in your birthday month with a few exceptions. See deadlines below.
Team members and spouses who are currently receiving the premium reduction:
January birthdays – deadline Feb. 28, 2021
February birthdays – deadline Feb. 28, 2021
March birthdays – deadline Mar. 31, 2021
April birthdays – deadline Apr. 30, 2021
May birthdays – deadline May 31, 2021
June birthdays – deadline June 30, 2021
August birthdays – deadline Aug. 31, 2021
September birthdays – deadline Sept. 30, 2021
October, November and December birthdays – deadline Oct. 31, 2021
STEP 2: Have your PCP complete the enclosed MHB Wellness Visit form in its entirety. Submit the completed form to My Healthy Blueprint.
Ensure the completed MHB Wellness Visit form is received by the My Healthy Blueprint team by your birth month deadline as detailed in Step 1.
STEP 3: Complete the enclosed nicotine affidavit and program consent forms and return to my healthy blueprint before october 31, 2021 (in accordance with birth month deadlines in step 1 is recommended).
All forms and submission instructions can be found at ebaptisthealthcare.org/MyHealthyBlueprint.
Participants that used nicotine in 2020 may be required to complete a nicotine swab with My Healthy Blueprint if they attest to being nicotine free for at least 90 days in 2021.
MHB reserves the right to conduct random nicotine testing.
It is the participant's responsibility to ensure that MHB receives the completed Wellness Visit form, nicotine affidavit and program consent by the established deadline. Failure to complete Step 1, Step 2 and Step 3 by established deadlines will result in forfeiture of your insurance premium reduction in 2022.
STEP 4: Get involved!
Participants (team member or spouse) that can benefit from health coaching, as determined by the Wellness Form, will be required to work with a health coach and complete a pharmacotherapy clinic visit to retain the insurance premium reduction.
MHB offers wellness workshops, fitness consults, nutrition consults, nicotine cessation, health coaching and more! Our team is here to help you!
All forms can be found at ebaptisthealthcare.org/MyHealthyBlueprint and on BHC/LCI intranet sites under My Healthy Blueprint.
New Hires, Status Changes and Qualified Events
New Hires, Status Changes, and Qualified Life Events — Must schedule and complete their initial appointment with MHB within the first 30 days of the new hire period or within the 30 days of the qualifying status change event. Spouses that will be insured must complete an initial appointment with My Healthy Blueprint within these deadlines as well.
Open Enrollment participants — please refer to the information provided by your benefits department in November 2021.
Employees and spouses already on BHC/LCI health insurance that have not participated in the past or that did not participate in 2020 — must schedule and complete an appointment with MHB before October 31 of the program year to receive the premium reduction effective January 1 of the following year.
Individuals that miss 30-day deadline as New Hire, Status Change or Qualifying Life Event — Complete MHB enrollment appointment, complete and submit program consent and nicotine affidavit prior to October 31, 2021. Medical premium reduction will go into effect January 1 of following year.
My Healthy Blueprint Powered by Baptist Health Care is a wellness program that uses data, health-risk assessments, education and coaching to customize a health care model for individual health success. The goal is to motivate behavioral improvements that result in good health.
The program launched in 2010 as an extension of Baptist Health Care, and since then, we've provided support and positive results for thousands of Gulf Coast residents.
Our program is tailored for business. Read through our website and email us at Blueprint@bhcpns.org or call us at 1.855.469.6903. We'd love to meet with you and set you on your way to a healthier life.