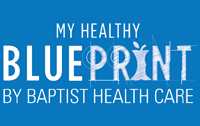 About My Healthy Blueprint

In an effort to limit unnecessary exposure to our participants and to preserve the time of our providers and primary care staff for those who need it most, a grace period will be offered for Baptist and Lakeview My Healthy Blueprint annual wellness visits for those that have March, April and May birthdays. Please contact My Healthy Blueprint at blueprint@bhcpns.org if you have any questions.
My Healthy Blueprint Powered by Baptist Health Care is a wellness program that uses data, health-risk assessments, education and coaching to customize a health care model for individual health success. The goal is to motivate behavioral improvements that result in good health.
The program launched in 2010 as an extension of Baptist Health Care, and since then, we've provided support and positive results for thousands of Gulf Coast residents.
Our program is tailored for business. Read through our website and email us at Blueprint@bhcpns.org or call us at 1.855.469.6903. We'd love to meet with you and set you on your way to a healthier life.