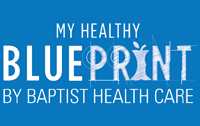 Motivating Changes in Behavior
Our program consists of four components that help motivate changes in behavior:
Analytics and Interpretation
Health Risk Assessment and On-Site Screening
Health Education Classes
Health Coaching
Analytics and Interpretation - Analysis of your company's needs to create a comprehensive workplace profile helps to serve as a guide to developing your specific Healthy Blueprint program.
Health Risk Assessments and Screenings - Individual biometric screenings and health risk assessments provide personalized health reports for each employee. While individual information is confidential, the collective data allows our team to create a health risk profile of your company's workforce.
Wellness Services - Recommendations for incentives and education, as well as access to our team's vast clinical expertise.
Health Coaching - Support and motivation helps members overcome challenges and achieve their personal health goals. When needed, our health coaches collaborate with physicians.
We can compile the following data to help change behaviors and lower overall health care expenses:
Medical claim expense and utilization
Percentage of members in high, moderate and low risk categories
Major categories of care by volume and expense
Percent of diabetic members who controlled diabetes compared to previous year
Overall program satisfaction
Companies across the nation experience challenges in balancing health care costs and a healthy workforce. The right wellness partner can help you develop a program that can lead your employees to better health and your company to a healthier bottom line.
My Healthy Blueprint™ becomes an integral part of your team to ensure your program is customized. We spend time on-site and track the effectiveness of your program to see how it's working. Then, we follow up making adjustments and answering questions to some of your most complex health care concerns. We can identify company trends and determine what wellness program will provide the most return on investment, ensure team member value and lower health care expenses. Here's how we do it:
Working with your staff, we develop a workplace profile for your company that identifies high-risk areas, assesses employer readiness and evaluates past plan performance.
We utilize health risk assessments and our team of nurses conducts on-site biometric screenings for employees.
Your employees will receive an individual health risk report. The company will receive an aggregate population health risk report.
The My Healthy Blueprint team works closely with your management team to develop a personalized wellness program based on data, an incentive program, education and an effective communication strategy.
Employees log on to the My Healthy Blueprint member portal to learn about prevention and wellness, record exercise and track goals.
My Healthy Blueprint works with your executive team to evaluate data, identify positive trends and present opportunities to improve the value of employer's investment in health.
The My Healthy Blueprint rewards program is a results-based incentive program tailored to your employees' needs and interests. For achieving specific health and lifestyle goals at year-end, participants earn points that can be used for incentives determined and provided by your company.