Stephanie Hall, First Heart Patient at New Baptist Hospital, Plays Music with Purpose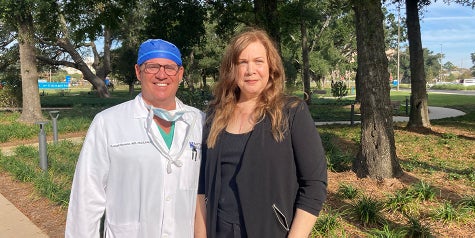 Stephanie Leigh Hall knows about rhythmic movement and beats. She is a well-known musician around Northwest Florida who has performed at venues such as Vinyl Music Hall and Seville Quarter in Pensacola. Her bluesey folk sound and skilled guitar playing attract crowds from across the Gulf Coast. But Stephanie became concerned about her own heart movement and health after she suddenly began to feel winded, especially when carrying her guitar equipment to shows. The issue persisted for two years with people telling her this was a normal symptom for someone of her age and weight.
Stephanie felt in her core that this was not normal, so she sought out a new primary care provider and found Kendall Henry, PA-C. It was not until then that Stephanie felt that she was finally receiving the care that she needed. "She listened to me," Stephanie said. "After seeing my family history, she sent me in for a scan."
Kendall performed a lung scan and discovered that Stephanie had an ascending aortic aneurysm. This is when the top part of the aorta, the main artery that pumps blood to the rest of the body, is enlarged. This makes the aorta more likely to rupture or tear. "I felt like I was living with a ticking time bomb," Stephanie said. "I was very frustrated that this was keeping me from playing my music."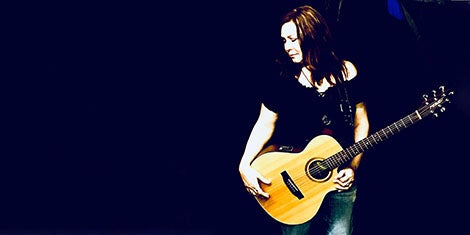 Stephanie was then referred to Russell S. Ronson, M.D., FACS, FACC, a cardiothoracic surgeon at Baptist Heart & Vascular Institute. Dr. Ronson listened to Stephanie's concerns and was able to schedule her surgery for an ascending aortic replacement within two weeks. The surgery consisted of removing the top portion of the aorta and replacing it with a synthetic, tube-shaped graft.
"At Baptist, we have a phenomenal heart program," Dr. Ronson said. "I tell patients that there is no need to travel outside of Pensacola for heart surgery. We're able to offer the highest level of care right here at Baptist."
Stephanie's surgery was the first heart surgery at the new Baptist Hospital located at I-110 and Brent Lane in Pensacola. All 25 operating rooms are equipped with leading-edge equipment and imaging capabilities, and the surgery waiting area is designed to be a comfortable, modern space for family members. The surgery department is also equipped with a private elevator that is solely for surgical patients to maintain their privacy throughout their stay.
Stephanie shared that her experience at Baptist was excellent. "Every single person, from the nurses to the cleaning staff, was compassionate and empathetic," Stephanie said. "My nurse, Michael, explained what was happening every step of the way."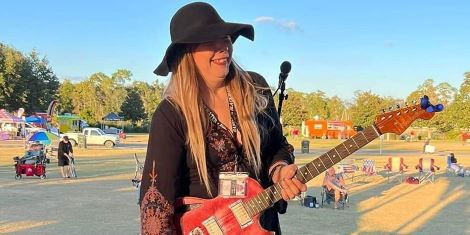 Stephanie shared that she is very pleased with the care provided by Baptist. Thanks to her procedure with Dr. Ronson, Stephanie's heart can more safely carry blood and help oxygen flow as it should to other organs in her body. She will continue her recovery with Baptist's Cardiopulmonary Rehabilitation program. The heart of Stephanie is her love of music, and she is looking forward to being able to play songs again with a healthier heart.
For more information or to schedule an appointment, please visit ebaptisthealthcare.org/heart.
Categories:
---
Related Articles: