500th TAVR Patient is Back to Normal Routine, Feeling "Great"
8/30/2022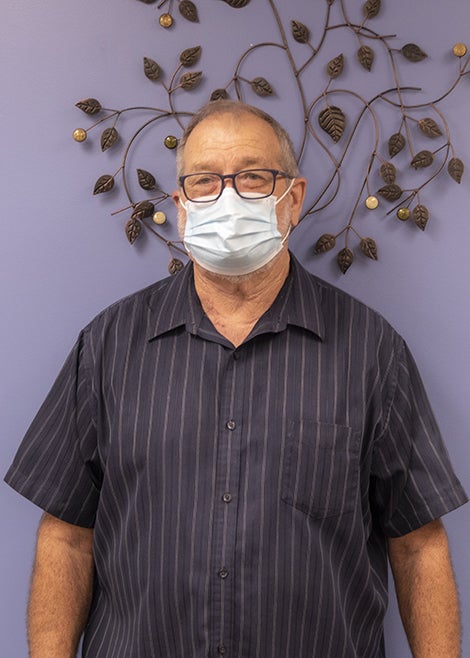 When walking short distances or climbing stairs left Harvey Radcliff short of breath, fatigued, dizzy and experiencing chest pains last year, he knew something was wrong. The specialists with Baptist Heart & Vascular Institute evaluated Harvey and discovered that his heart muscle was pumping at only 30% due to a thickening of one of his heart valves, a condition called aortic stenosis that restricts blood flow. Fortunately, a procedure called transcatheter aortic valve replacement is highly successful for this problem, and Radcliff became the 500th patient to undergo the TAVR procedure at Baptist Hospital.
TAVR is a revolutionary minimally-invasive treatment option for patients with severe aortic stenosis and is an alternative for traditional open-heart surgery. In TAVR, a new valve is implanted through a catheter, making only a small incision in the groin or chest. Baptist was the first hospital to bring this life-saving treatment to the Florida Panhandle in 2014.
The symptoms Radcliff experienced are common in patients who suffer from aortic stenosis. Severe aortic stenosis is a serious problem. If left untreated and not repaired, it is potentially fatal. "My heart valve was wearing out, much like the parts on a car will after a while," Radcliff said.
Interventional cardiologist Safwan Jaalouk, M.D., FACC, FSCAI, and cardiothoracic surgeon Russell Ronson, M.D., FACS, FACC, performed Radcliff's TVAR. Radcliff said his procedure was completed in about two hours, and he was discharged the following day. He was back to his normal routine within a week. A year after his TAVR procedure, 66-year-old Radcliff said his heart is now pumping at 63% and he feels "great."
Baptist Health Care is a not-for-profit health care organization based in Northwest Florida that is committed to helping people throughout life's journey. Baptist continuously strives to be a national leader in quality and service. Baptist Health Care includes three hospitals, four medical parks, Andrews Institute for Orthopaedics & Sports Medicine and a large network of primary care and specialty physicians. Baptist Health Care is one of the largest non-governmental employers in Northwest Florida.
Baptist Health Care ● Baptist Hospital ● Gulf Breeze Hospital ● Jay Hospital ● Baptist Medical Parks Airport, Nine Mile, Navarre and Pace ● Andrews Institute ● Baptist Medical Group ● Baptist Heart & Vascular Institute ● Baptist Health Care Foundation