Baptist Health Care Announces Winner of First DAISY Award for Extraordinary Nurses
5/16/2019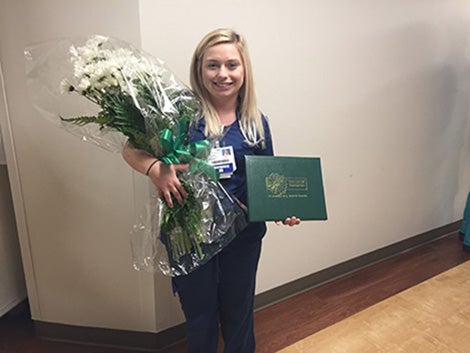 Meghan Toney, BSN, R.N., has been named Baptist Health Care's first recipient of the DAISY Award for Extraordinary Nurses.
BHC vice president and system chief nursing officer Cynde Gamache, DBA, R.N., NEA-BC, made the announcement during a surprise presentation in the Baptist Hospital emergency department where Toney has worked since last July. Toney was selected from more than 60 nominations.
"The DAISY Award serves as another important way for Baptist Health Care to ensure that our nursing team members receive recognition and praise for the remarkable work that they do every day," Gamache said.
"We are very appreciative that the DAISY Foundation has created a meaningful award program that honors the tender acts of human compassion that can sometimes go unnoticed but can leave an enduring imprint on the heart and soul of another human being."
The DAISY Award is part of a national merit-based recognition program established by the DAISY Foundation that celebrates the education, training and skill that nurses put into their work every day and, especially, the devoted care they give their patients. Nominations can be submitted by patients, families, physicians and colleagues. All nominations are blinded so that they are anonymous before being reviewed by a selection committee. One nurse is then chosen as the DAISY Award winner. DAISY Awards are presented on a regular basis, usually monthly or quarterly.