Baptist Health Care First in Area to Offer Adult and Pediatric Cochlear Implants
1/26/2018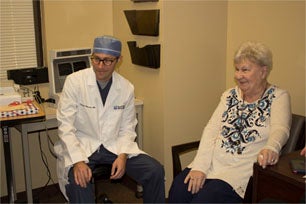 Pensacola, Fla. (Jan. 26, 2018) – Baptist Health Care is the first in the area to offer both adult and pediatric cochlear implants. These electronic devices restore the ability to hear and understand speech for people with moderate to severe hearing loss. The first surgery was completed by Thomas Babcock, M.D., the area's first otologist/neurotologist, at Baptist Hospital on December 22.
A cochlear implant is a device for people who need help beyond what hearing aids offer. Unlike a hearing aid, which delivers amplified sound acoustically, a cochlear implant bypasses damaged hair cells in the cochlea and stimulates the remaining nerve fibers directly through the application of an electrical current.
"Cochlear implants for children and adults may be the most rewarding procedure I perform," says Dr. Babcock. "Children who are candidates are often born with profound hearing loss and would not have meaningful hearing and appropriate speech development without a cochlear implant. For adults, the loss of hearing can lead to social isolation and decreased the quality of life. Some of my most rewarding patients are adults with cochlear implants who are able to communicate with loved ones and interact in society after years of struggling with hearing loss."

"I just feel so blessed right now, it's wonderful," said Joanne Kish, cochlear implant patient. Joanne had been advised to have the surgery sooner, but the distance and access to care was a concern. "When we found it out it was coming to Pensacola, we were really excited."
For more information about cochlear implants, visit BaptistMedicalGroup.org or call 850.432.3467.