Baptist Heart & Vascular Institute Cardiologist Named Fellow of American College of Cardiology
2/02/2022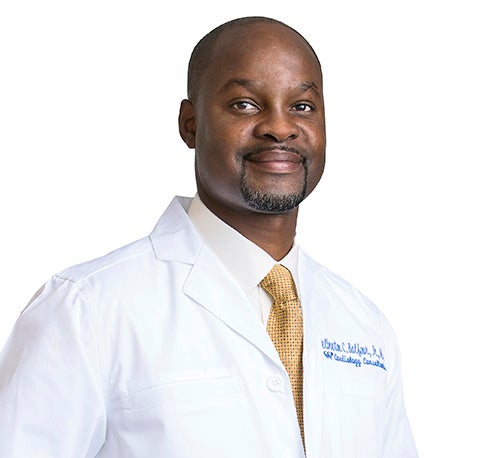 Pelbreton C. Balfour, Jr., M.D., M.S., FACC, a cardiologist with the Baptist Heart & Vascular Institute (BHVI), has been named a Fellow of the American College of Cardiology. This achievement is based on Dr. Balfour's training, specialty board certification, scientific and professional accomplishments, and his active participation in a cardiovascular related field.
Dr. Balfour earned his bachelor's degree from Brown University in Providence, Rhode Island, and his medical degree from the University of Pittsburgh School of Medicine in Pittsburgh, Pennsylvania. He completed an internship and residency at the University of Virginia Health System in Charlottesville, Virginia. Dr. Balfour was fellowship trained in cardiology at Wake Forest University School of Medicine in Winston-Salem, North Carolina, and in advanced cardiac imaging at the University of Virginia. He joined BHVI in 2017.
For more information about Dr. Balfour, visit ebaptisthealthcare.org/baptistmedicalgroup/pelbreton-c-balfour.
Baptist Health Care is a not-for-profit health care organization based in northwest Florida that is committed to helping people throughout life's journey. The organization is a proud member of the Mayo Clinic Care Network. Baptist continuously strives to be a national leader in quality and service. Baptist Health Care includes three hospitals, four medical parks, Andrews Institute for Orthopaedic & Sports Medicine and a large network of primary care and specialty physicians. Baptist Health Care is one of the largest non-governmental employers in northwest Florida.
Baptist Health Care ● Baptist Hospital ● Gulf Breeze Hospital ● Jay Hospital ● Baptist Medical Parks Airport, Nine Mile, Navarre and Pace ● Andrews Institute ● Baptist Medical Group ● Baptist Heart & Vascular Institute ● Mayo Clinic Care Network
CONTACT BELOW IS FOR MEDIA USE ONLY
For more information about this press release or to schedule an interview, please contact Kathy Bowers at 850.791.5254 or BHCMediaRelations@bhcpns.org