Baptist Medical Group Oncologist Earns Third Board Certification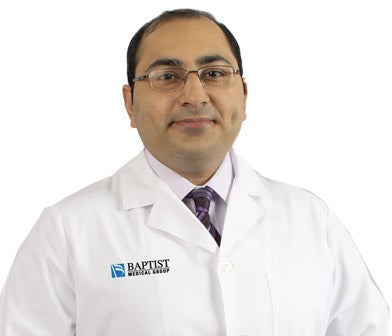 Baptist Medical Group oncologist Syed Jafri, M.D., is now triple board certified. He is board certified in internal medicine by the American Board of Internal Medicine (ABIM) and recently earned additional board certifications in hematology and oncology from the ABIM.
Dr. Jafri earned his medical degree at King Edward Medical University in Lahore, Pakistan. He completed his internal medicine residency training and served as a chief resident at Abington Hospital Jefferson Health in Abington, Pennsylvania. He completed his fellowship in hematology and oncology at the University of Connecticut in Farmington, Connecticut.
He is accepting new patients at Baptist Medical Group – Hematology & Oncology, located at 1717 North E St., Suite 231 in Pensacola. For more information about Dr. Jafri or Baptist Medical Group, visit BaptistMedicalGroup.org.
Baptist Health Care is a community-owned, not-for-profit health care organization based in northwest Florida that is committed to helping people throughout life's journey. The organization is a proud member of the Mayo Clinic Care Network. A 2003 Malcolm Baldrige recipient, Baptist continuously strives to be a national leader in quality and service. Baptist Health Care includes three hospitals, four medical parks, Andrews Institute for Orthopaedic & Sports Medicine, Footer link to Lakeview Center and a large network of primary care and specialty physicians. With more than 7,300 employees and employed physicians, Baptist Health Care is the second largest non-governmental employer in northwest Florida.
Baptist Health Care ● Baptist Hospital ● Gulf Breeze Hospital ● Jay Hospital ● Lakeview Center ● Baptist Medical Park – Nine Mile ● Baptist Medical Park – Navarre ● Andrews Institute ● Baptist Medical Group ● Cardiology Consultants ● Mayo Clinic Care Network
CONTACT BELOW IS FOR MEDIA USE ONLY
For more information about this press release or to schedule an interview, please contact Kathy Bowers at 850.791.5254 or BHCMediaRelations@bhcpns.org