Baptist Medical Group – Post-Acute Medicine Welcomes Elaine Pinder, APRN-C
4/19/2022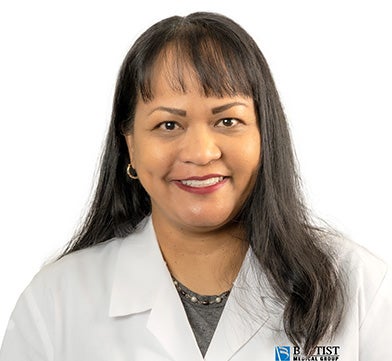 Baptist Medical Group is pleased to welcome board-certified nurse practitioner Elaine Pinder, APRN-C, to its multispecialty physician network. Pinder provides care for Baptist Medical Group – Post-Acute Medicine and will treat patients within skilled-nursing facilities, long-term care nursing facilities and other post-acute care settings in the area.
Pinder earned her Bachelor of Science in biology from the University of Guam in Mangilao, Guam, and completed a Master of Arts in pharmacology at the State University of New York in Buffalo, New York. She earned her Master of Science in nursing from Samuel Merritt University in Oakland, California, and is board certified by the American Academy of Nurse Practitioners.
To learn more about Pinder, please visit baptistmedicalgroup.org or call Baptist Medical Group – Post-Acute Medicine at 850.437.8600.