Baptist Medical Group Welcomes Endocrinologist Suraj Patel, M.D.
8/10/2021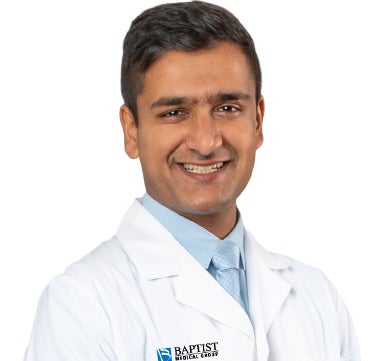 Baptist Medical Group is pleased to welcome fellowship-trained endocrinologist Suraj Patel, M.D., to its multispecialty physician network. Dr. Patel is dedicated to caring for adults who suffer from endocrinological disorders, which are those related to hormones, metabolism and diabetes.
Dr. Patel earned his medical degree from St. George's University School of Medicine in Grenada, West Indies. He completed a residency in internal medicine at the University of Tennessee College of Medicine Chattanooga in Chattanooga, Tennessee, and a fellowship in endocrinology, diabetes and metabolism at the University of Pittsburgh Medical Center in Pittsburgh, Pennsylvania.
As part of Baptist Medical Group – Endocrinology, Dr. Patel joins Tareq Khairalla, M.D., at the Baptist Towers, 1717 North E St., Suite 422, in Pensacola.
To learn more about Dr. Patel or to schedule an appointment, visit BaptistMedicalGroup.org or call 850.908.1220.