Baptist Medical Group Welcomes Keiran Shute, M.D.
3/14/2023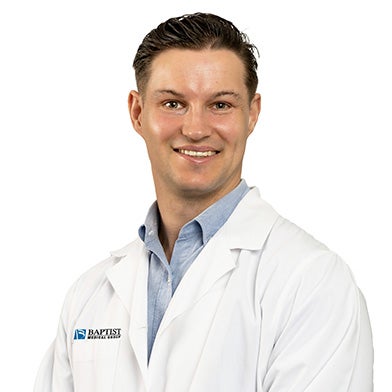 Baptist Medical Group is pleased to welcome board-certified physician Keiran Shute, M.D., to its multispecialty physician network. Dr. Shute specializes in family medicine and offers quality, compassionate care to patients at Baptist Medical Group Primary Care – Gulf Breeze.
Dr. Shute received his medical degree from Saba University School of Medicine in The Bottom, Saba, Caribbean Netherlands. He attended the University of Alberta in Edmonton, Alberta, Canada and earned a Bachelor of Science in Kinesiology, a branch of science that studies physical activity and human movement to explore how it affects health, quality of life and society as a whole. He completed his residency and fellowship at The University of Florida in Gainesville, Florida. He is board certified by the American Board of Family Medicine.
Dr. Shute has served in various leadership roles including the Medical Chief of Staff at Arbor Health in Morton, Washington and the Chief Resident at The University of Florida, where he was also recognized by awards such as intern of the year, resident of the year and teacher of the year.
As part of Baptist Medical Group Primary Care – Gulf Breeze, Dr. Shute welcomes new patients at his clinic located at 1200 Gulf Breeze Parkway, Suite B.
To learn more or to schedule an appointment, please visit baptistmedicalgroup.org or call 850.916.3680.