Baptist Medical Group Welcomes Palliative Care Physician P. Michael Kalis II, M.D.
1/11/2019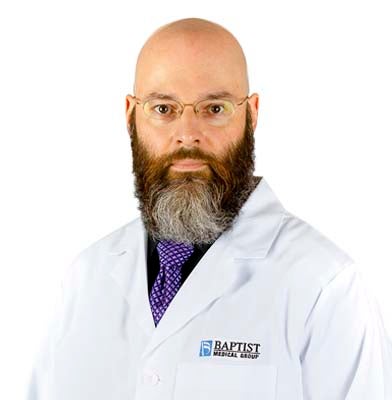 Baptist Medical Group is pleased to welcome new palliative care physician P. Michael Kalis II, J.D., M.D., M.A., to its palliative care team and expansive physician network. Dr. Kalis is board certified in internal medicine and is dedicated to improving quality of life for patients who are coping with a serious illness. He will begin seeing patients during the week of Jan. 14.
Dr. Kalis earned his medical degree at University of Cincinnati College of Medicine in Cincinnati, Ohio, completed his residency in internal medicine at Kettering Health Network in Kettering, Ohio and completed his fellowship in hospice and palliative medicine at Wright State University in Kettering, Ohio.
Along with the palliative care team, Dr. Kalis will care for patients admitted to Baptist Hospital and Gulf Breeze Hospital, providing skilled and compassionate care throughout their stay. More information about Dr. Kalis is available on his profile page at BaptistMedicalGroup.org or by calling 850.437.8600.