Beau Pollard Named Vice President of Operations for Baptist Health Care
4/11/2022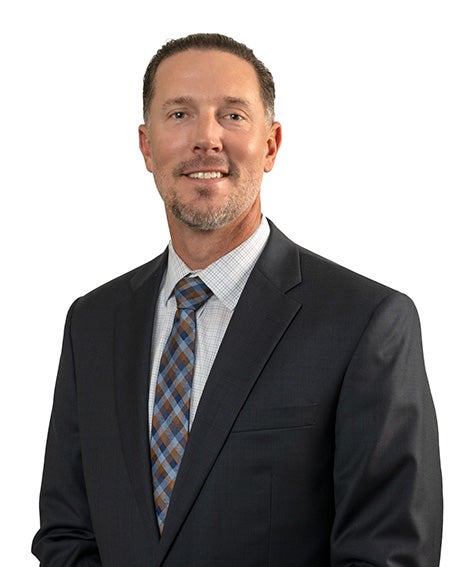 Beau Pollard has been named vice president of operations for Baptist Health Care. He will be responsible for support services, surgical services, ancillary services and the Baptist Medical Park – Nine Mile Ambulatory Surgery Center.
Pollard has been a leader for Baptist Health Care for more than 20 years, serving in a variety of roles including operations, marketing, imaging and, most recently, as administrator of Gulf Breeze Hospital.
Pollard has played an integral role in many Baptist Health Care successes, including significant growth in the orthopedic service line, the development of the total joint program and the implementation of Baptist Emergency Room & Urgent Care – Navarre. He also served on the COVID-19 Response Task Force and has led Gulf Breeze Hospital through many years of Centers for Medicare and Medicaid Services (CMS) recognition as a 5-Star hospital.
Pollard has a bachelor's degree in business administration from Millsaps College in Jackson, Mississippi, and a master's degree in business administration from Chadron State College in Chadron, Nebraska. His industry involvement includes memberships in the American College of Health Care Executives and the Florida Hospital Association. He is a board member for the Gulf Breeze and Navarre Area Chambers of Commerce, and he is a member of the Rotary Club of Gulf Breeze.
Baptist Health Care is a not-for-profit health care organization based in northwest Florida that is committed to helping people throughout life's journey. The organization is a proud member of the Mayo Clinic Care Network. Baptist continuously strives to be a national leader in quality and service. Baptist Health Care includes three hospitals, four medical parks, Andrews Institute for Orthopaedic & Sports Medicine and a large network of primary care and specialty physicians. Baptist Health Care is one of the largest non-governmental employers in northwest Florida.
Baptist Health Care ● Baptist Hospital ● Gulf Breeze Hospital ● Jay Hospital ● Baptist Medical Parks Airport, Nine Mile, Navarre and Pace ● Andrews Institute ● Baptist Medical Group ● Baptist Heart & Vascular Institute ● Mayo Clinic Care Network
CONTACT BELOW IS FOR MEDIA USE ONLY
For more information about this press release or to schedule an interview, please contact Kathy Bowers at 850.791.5254 or BHCMediaRelations@bhcpns.org