Brasfield & Gorrie Enters OSHA Partnership on Baptist Health Care Project
3/02/2021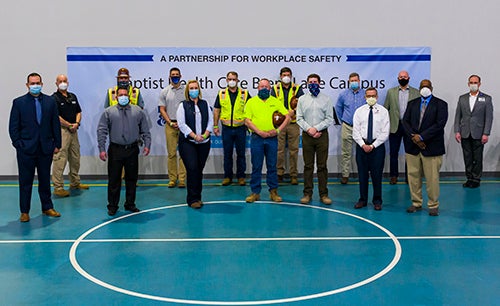 Brasfield & Gorrie officials have entered an OSHA Strategic Partnership on Baptist Health Care's new health campus project located on Brent Lane in Pensacola, Florida. The partnership with the Occupational Safety & Health Administration is an extended, voluntary relationship that will reinforce Brasfield & Gorrie's commitment to safety.
The partnership will include monthly safety lunch and learn events for all working on site, including trade contractor employees. These gatherings empower workers to become safety advocates. Additional OSHA Training Center training will take place outside of the monthly events, and will include topics such as fall protection prevention, excavation safety, electrical safety, cranes and rigging, and more.
"Brasfield & Gorrie understands that safety is a sacred trust, and we continuously work to promote a culture of shared responsibility throughout our company and our trade contractors," said Vice President of Safety and Field Operations Support Troy Ogden. "We are appreciative to have been the first contractor in the Southeast to partner with OSHA in this program, and are honored to continue that long-standing partnership focused on a commitment to achieving injury-free work sites for our employees, partners, clients and our communities"
"Brasfield & Gorrie's commitment to prioritizing safety mirrors our own and aligns with the values of Baptist Health Care," said Scott Raynes, Executive Vice President, Baptist Health Care. "This partnership with OSHA represents a long-lasting investment in the health and wellbeing of our community. The training and education these workers will receive through this safety program will serve them well not only during our three-year construction project, but also in future projects."
Baptist Health Care's new health campus will include a 601,750 sq. ft., 10-story main hospital with 260 beds. The site will also include a 23,368 sq. ft. central energy plant, and a 177,247 sq. ft., six-story medical office building. Brasfield & Gorrie recently started work on the project, which is scheduled for completion in the third quarter of 2023.