EP Lab Digest Features Article by Dr. Sumit Verma of Baptist Heart & Vascular Institute
12/13/2021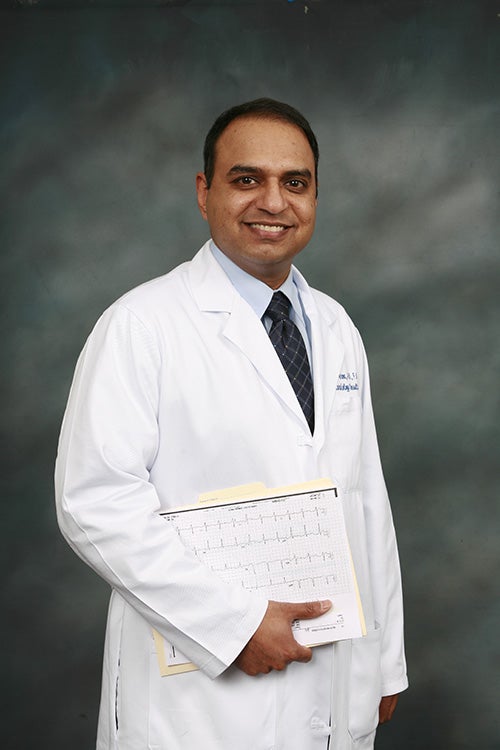 A paper written by electrophysiologist Sumit Verma, M.D., FACC, FHRS, of the Baptist Heart & Vascular Institute's Heart Rhythm Center, was recently published in EP Lab Digest, a professional journal for cardiologists.
The topic of Dr. Verma's article, which was chosen as the cover story for the issue, is same-day discharge protocols for atrial fibrillation ablation that help safely discharge patients home on the same day they undergo the procedure.
Atrial fibrillation is an irregular and often very rapid heart rhythm, known as an arrhythmia, that can lead to blood clots in the heart. A-Fib increases the risk of stroke, heart failure and other heart-related complications. A cardiac ablation is a surgical procedure performed to restore a more normal heartbeat.
Co-authors are Dr. Verma's BHVI colleagues Evaldas Giedrimas, M.D., FHRS; Natalia Hernandez, M.D.; and Thabet Alsheikh, M.D., FHRS. The article can be read at https://www.hmpgloballearningnetwork.com/site/eplab/cover-story/same-day-discharge-ep-procedures-update-baptist-heart-and-vascular-institute.
Baptist Health Care is a not-for-profit health care organization based in northwest Florida that is committed to helping people throughout life's journey. The organization is a proud member of the Mayo Clinic Care Network. Baptist continuously strives to be a national leader in quality and service. Baptist Health Care includes three hospitals, four medical parks, Andrews Institute for Orthopaedic & Sports Medicine and a large network of primary care and specialty physicians. Baptist Health Care is one of the largest non-governmental employers in northwest Florida.
Baptist Health Care ● Baptist Hospital ● Gulf Breeze Hospital ● Jay Hospital ● Baptist Medical Parks Airport, Nine Mile, Navarre and Pace ● Andrews Institute ● Baptist Medical Group ● Baptist Heart & Vascular Institute ● Mayo Clinic Care Network
CONTACT BELOW IS FOR MEDIA USE ONLY
For more information about this press release or to schedule an interview, please contact Kathy Bowers at 850.791.5254 or BHCMediaRelations@bhcpns.org