General Surgeon Madison Lashley, M.D., FACS, Joins Baptist Medical Group
7/03/2023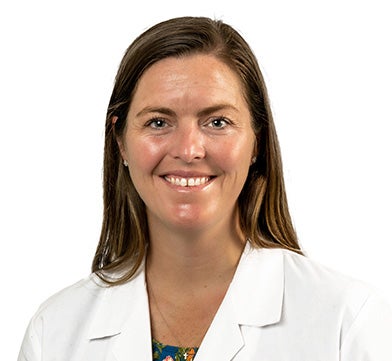 Baptist Medical Group is pleased to welcome general surgeon Madison Lashley, M.D., FACS, to its multispecialty physician network. Dr. Lashley is highly trained, board-certified and dedicated to providing exceptional care to her patients. She specializes in endoscopic and laparoscopic and is also certified in da Vinci robotic surgery techniques. She is currently accepting new patient appointments.
Dr. Lashley earned her medical degree at the University of Texas School of Medicine in Houston, Texas, and a Bachelor of Science in Kinesiology from the University of Texas in Austin, Texas. She completed her residency at the Mercer University School of Medicine in Macon, Georgia. She is a fellow with the American College of Surgeons and is board-certified by the American Board of Surgery.
During her medical education and career, Dr. Lashley served as a member of the United States Air Force. During her time in the military, she was in various leadership roles such as chair, surgery lead and clinic lead for committees, expeditionary surgeon during deployment and most recently, medical director of general surgery in a clinical setting. Dr. Lashley has also received various awards and honors for her surgical skills and military service, including the Army Commendation Medal, Surgery Resident of the Year, Trauma Resident of the Year, Humanism and Excellence in Teaching Award and the Humanitarian Service Medal.
Dr. Lashley has also served as an associate professor of surgery for the Naval Medical Center Portsmouth in Portsmouth, Virginia and the Uniformed Services University of Health Sciences in Bethesda, Maryland. She retires from the Air Force in Summer 2023.
The Baptist Medical Group – General Surgery office is located at 1717 North E St., Suite 205, in Pensacola. To learn more about Dr. Lashley or to schedule an appointment, please visit baptistmedicalgroup.org or call 850.437.8810.