McCutcheon Earns Board Certification in OB/GYN
3/25/2019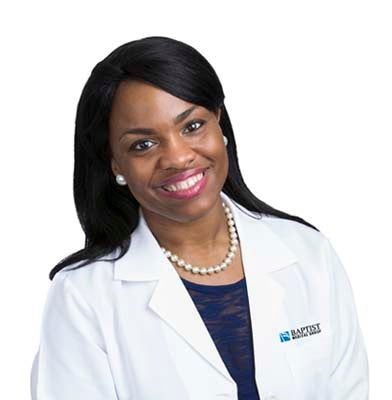 Baptist Medical Group obstetrician and gynecologist Regina McCutcheon, M.D., MPH, has earned board certification from the American Board of Obstetrics and Gynecology. Baptist Medical Group – Ladies First OBGYN is located at 3417 North 12th Ave. in Pensacola.
Dr. McCutcheon received her medical degree at Tulane University School of Medicine in New Orleans and completed her residency at Louisiana State University School of Medicine in Baton Rouge.
Dr. McCutcheon has both the certifications and experience to provide obstetric and gynecological care for female patients 13 years old and above. For more information about Dr. McCutcheon or Baptist Medical Group, visit BaptistMedicalGroup.org.
Baptist Health Care is a not-for-profit health care organization based in northwest Florida that is committed to helping people throughout life's journey. The organization is a proud member of the Mayo Clinic Care Network. Baptist continuously strives to be a national leader in quality and service. Baptist Health Care includes three hospitals, four medical parks, Andrews Institute for Orthopaedic & Sports Medicine and a large network of primary care and specialty physicians. Baptist Health Care is one of the largest non-governmental employers in northwest Florida.
Baptist Health Care ● Baptist Hospital ● Gulf Breeze Hospital ● Jay Hospital ● Baptist Medical Parks Airport, Nine Mile, Navarre and Pace ● Andrews Institute ● Baptist Medical Group ● Baptist Heart & Vascular Institute ● Mayo Clinic Care Network