Three Research Projects at Andrews Research & Education Foundation Win Awards
7/26/2021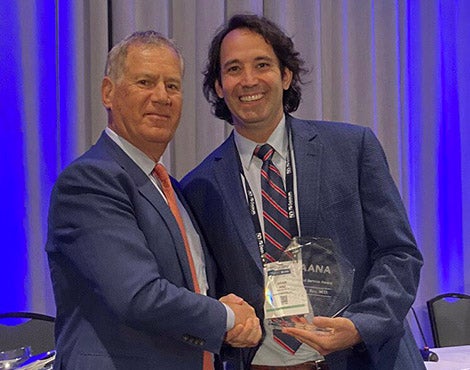 GULF BREEZE, Fla. (July 26, 2021) – Andrews Institute for Orthopaedics & Sports Medicine orthopaedic surgeon Adam Anz, M.D., was recently honored with three awards for his stem cell work with Andrews Research & Education Foundation.
Dr. Anz served as lead researcher on two projects, "Quantification and Qualification of Stem Cells from Blood After Mobilization with Filgrastim and Concentration Using a PRP System" and "Platelet-Rich Plasma Devices Can Be Used to Isolate Stem Cells from Synovial Fluid at the Point of Care." They were two of the four papers that earned Anz and his team the "Best of 2020 Research" award at the recent Biologics Association Annual Summit.
Dr. Anz also served as co-investigator on "Chondrogenesis with Stem Cells in Massive Chondral Defects: A Randomized Controlled Trial" with Khay Yong Saw, M.D., a colleague from Kuala Lumpur Sports Medicine in Malaysia. "We have been collaborating with national and international colleagues, including Dr. Saw in Kuala Lumpur, to develop evidence-based, state-of-the-art treatments for our patients at the Andrews Institute," said Dr. Anz. The paper won the J. Whit Ewing, M.D., Resident/Fellow Research Award at the American Orthopaedic Society for Sports Medicine / Arthroscopy Association of North America Combined 2021 Annual Meeting.
The goals of all three projects include producing research behind the application of biologic treatments, including stem cells, to orthopaedic sports medicine and providing clinicians with evidence-based techniques that are simple and will improve the biology of orthopaedic surgery. "These awards represent the first fruits of time, energy and funding of biologic studies at AREF. The studies were supported with the help of the city of Gulf Breeze, the state of Florida, Baptist Hospital, Edward Via College of Osteopathic Medicine and industry partners Arthrex and KLSMC Stem Cell."
While the research on all three projects is complete, the chondrogenesis study was a Phase II multi-center clinical trial under a Federal Drug Administration development pathway and will be followed by a Phase III multi-center trial in about 12-18 months. Dr. Anz adds that research by the AREF team continues, and through the studies they conduct, he is confident that future successful advancements in biologics and sports medicine will grow.